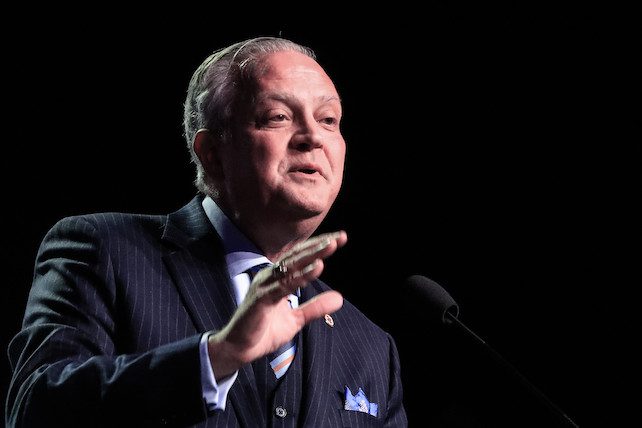 Dr. R. Albert Mohler Jr., president of the Southern Baptist Convention's (SBC) The Southern Baptist Theological Seminary, recently generated a bit of a stir on X, formerly known as Twitter, for a post on the relationship between sexuality and the gospel. 
"For Christ's people, the sex issue is a gospel issue," Mohler said on Saturday, Aug. 19. "Sexual adultery and spiritual adultery go hand in hand."
For Christ's people, the sex issue is a gospel issue. Sexual adultery and spiritual adultery go hand in hand.

— Albert Mohler (@albertmohler) August 19, 2023
RELATED: Trump Supporter Al Mohler: Speculating Voter Fraud Without Specifics Is Dangerous to America
Albert Mohler's Views on Donald Trump
In the comments on Dr. Albert Mohler's tweet, many brought up the fact that he had endorsed Donald Trump during the contentious 2020 presidential election, even though Mohler had refused to endorse Trump in 2016. In an October 2016 op-ed for The Washington Post, Mohler called "evangelical support for Trump…a horrifying embarrassment—a price for possible political gain that is simply unthinkable and too high to pay."
The seminary president referred to Trump as a "sexual predator" and said, "This year, the Republican nominee is, in terms of character, the personification of what evangelicals have preached (and voted) against." He continued, "Married three times, flaunting Christian sexual mores, building his fortune and his persona on the Playboy lifestyle, under any normal circumstances Trump would be the realization of evangelical nightmares, not the carrier of evangelical hopes."
In 2020, however, Mohler publicly endorsed Trump, explaining that he had not gained "a different moral estimation" of the candidate and that Trump "continually leaves me very frustrated in how he presents himself and how he speaks." It was the president's appointment of certain high level officials and his actions regarding religious freedom and abortion that won Mohler over. 
In May of this year, Trump was found liable in civil court of sexually assaulting and defaming journalist E. Jean Carroll, who was awarded $5 million in damages. In June, a federal judge upheld the verdict.
Last fall, Mohler, who has said he plans to vote Republican for the rest of life so long as the party opposes abortion and supports religious liberty, drew criticism for saying that how Christians vote is a sign of their faithfulness. Some took these comments to mean that true Christians must vote Republican.  
In the comments on Mohler's Aug. 19 remarks, user Josiah Hawthorne responded by quoting from Mohler's essay, "A Call for Theological Triage and Christian Maturity." There, Mohler wrote, "The misjudgment of true fundamentalism is the belief that all disagreements concern first-order doctrines. Thus, third-order issues are raised to a first-order importance, and Christians are wrongly and harmfully divided."