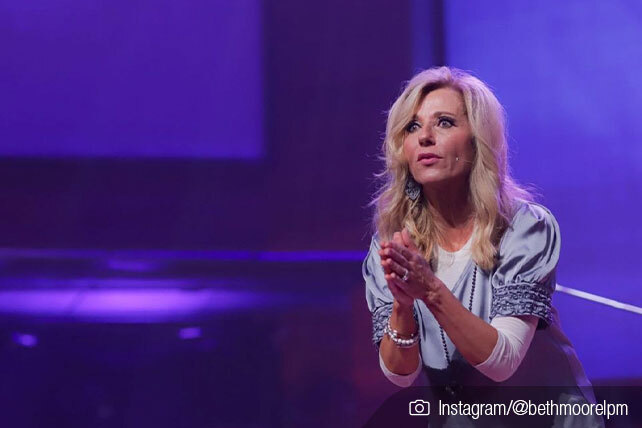 Before Sunday, the closest author Beth Moore had come to denouncing President Trump's diehard support among evangelicals was writing a few non-coincidentally-timed tweets about Trump's actions and his evangelicals supporters' complicity by silence. But, on Sunday Moore broke form and said these days are not for "mincing words." Moore called out "Trumpism" as the most "seductive & dangerous" thing to Christians she's witnessed in her 63 years.
"I do not believe these are days for mincing words. I'm 63 1/2 years old & I have never seen anything in these United States of America I found more astonishingly seductive & dangerous to the saints of God than Trumpism. This Christian nationalism is not of God. Move back from it," Moore wrote on Twitter.
While Moore didn't mention any names of evangelicals who have jumped on the so-called Trump train in her tweet, the timing of it can't be overlooked. The day before, a group of Christians, led by broadcaster and author Eric Metaxas, MyPillow CEO Mike Lindell, and Ret. Lt. Gen. Michael Flynn, participated in a Trump rally held in Washington D.C. Several other Trump supporters spoke to the crowd as well, including pro-life advocate Abby Johnson and Apostle Cindy Jacobs. The group put their own biblical spin on the larger "Stop the Steal" Trump rally by marching around the Capitol seven times in the flavor of the Israelites marching around Jericho. Reminiscent of Scripture, there were even shofars involved.
Trumpism and Christians: The Saints Are Being Used
In the tweet, Moore went on to admonish other Christian leaders not to remain passive as "the saints we've been entrusted to serve are being seduced, manipulated, USED and stirred up into a lather of zeal devoid of the Holy Spirit for political gain."
And, God help us, we don't turn from Trumpism to Bidenism. We do not worship flesh and blood. We do not place our faith in mortals. We are the church of the living God. We can't sanctify idolatry by labeling a leader our Cyrus. We need no Cyrus. We have a king. His name is Jesus.

— Beth Moore (@BethMooreLPM) December 13, 2020
She went so far as to imply that likening Trump to Cyrus (which some Christian leaders have done) is enabling believers to practice idolatry. Moore's tweet also contained a caution for those who feel the need to eschew all things Trump and swing in a different direction. "God help us, we don't turn from Trumpism to Bidenism," she wrote. 
Comments on Moore's tweet garnered the as-has-come-to-be-expected outrage from diehard Trump supporters, including Pastor Greg Locke, who said Moore had "honest to God lost your mind" and then rebuked her "in the name of Christ." He then declared she is "NO friend to babies, Israel, religious Liberty or the nuclear family. SIT DOWN." 
Radio host and gun rights advocate Dana Loesch replied to Moore saying, "I wish you spoke out against abortion as loudly as you do over your petty political nonsense."
Others, however, were appreciative of Moore talking about the support Trump has enjoyed among evangelicals and how it concerns them. Bishop Talbert Swan of the Church of God in Christ wrote "There is hope for the white evangelical community," in response to Moore's tweet.
Writer and podcast host Cole Claybourn agreed with Moore's assessment of the severity of the issue by saying, "It's one of the most fascinatingly disturbing movements I've ever witnessed."
Poet and author Jackie Hill Perry simply responded with a gif, expressing support for Moore's words.
— Jackie Hill Perry (@JackieHillPerry) December 13, 2020
At least one other evangelical leader, who expressed support for Trump just this year after resisting him in 2016, gave his thoughts a little more formally on the Jericho March via his "The Briefing" podcast this morning. Southern Baptist Theological Seminary (SBTS) President Al Mohler called it a "bizarre event" that represented a "strange mix of politics and theology." Mohler, a major leader in the Southern Baptist Convention, explained what made the march "strange" and, one could argue as Moore does, dangerous:
Because the theology that was presented in that very bizarre event can only be described as including very bizarre theology. There was the blessing of Roman Catholic images, and probably in a way that wouldn't even please Roman Catholic authorities, but nonetheless, there were evangelicals and others clapping at what took place. Most troubling were claims of private, compelling, divine revelation in which you had numerous speakers say, "God showed me this. God told me this by a vision or a dream." And thus, notice what happens, they put God's reputation as well as their own reputation on the line as to whether these things actually happen or not.
Moore has been the subject of criticism for not only speaking out about politics, but also for her teaching. Some more conservative evangelical leaders like John MacArthur have criticized Moore for her lack of formal theological training and the fact that she preaches to mixed-gender audiences.