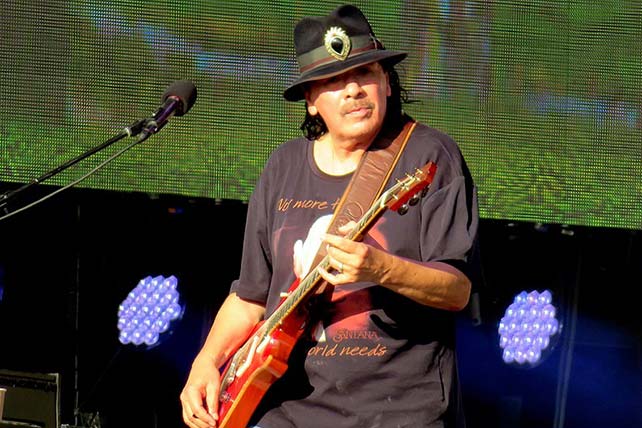 Multi-platinum, multi-award-winning guitarist Carlos Santana apologized on Friday (Aug. 25) for comments he made during a July concert in Atlantic City, New Jersey, that have been labeled by some as transphobic.
Last week, a clip of Santana (76) went viral. In the clip, Santana can be seen telling concertgoers, "There is no virtual reality. When God made you and me—before we came out of the womb—you know who you are and what you are."
"Later on, when you grow up and you see things, and you start believing that you could be something that sounds good, but you know it ain't right," he continued. "Because a woman is a woman and a man is a man. That's it. Whatever you wanna do in the closet, that's your business. I'm okay with that."
RELATED: 'There's a Difference Between Men and Women' — Caitlyn Jenner Defends Christian School That Refused To Compete Against Transgender Athlete
The Kennedy Center Honors recipient (2013) used Facebook to post an apology to his 7.8 million followers.
"I am sorry for my insensitive comments," Santana said. "They don't reflect that I want to honor and respect all person's ideals and beliefs. I realize that what I said hurt people and that was not my intent. I sincerely apologize to the transgender community and everyone I offended."
Santana told his social media followers that his daily personal goal is to "honor and respect all person's ideals and beliefs whether they are LGBTQ or not."
"This is the planet of free will and we have all been given this gift," the "Supernatural" musician added. "I will now pursue this goal to be happy and have fun, and for everyone to believe what they want and follow in your hearts without fear."
RELATED: 'Soul Surfer' Bethany Hamilton Takes Stand Against World Surf League Over New Transgender Policy
"It takes courage to grow and glow in the light that you are and to be true, genuine, and authentic. We grow and learn to shine our light with Love and compliments. Have a glorious existence," he concluded.
Santana turned off comments for his apology post. However, fans commented on Santana's follow-up post, which said, "Everyone is significant meaningful and priceless."