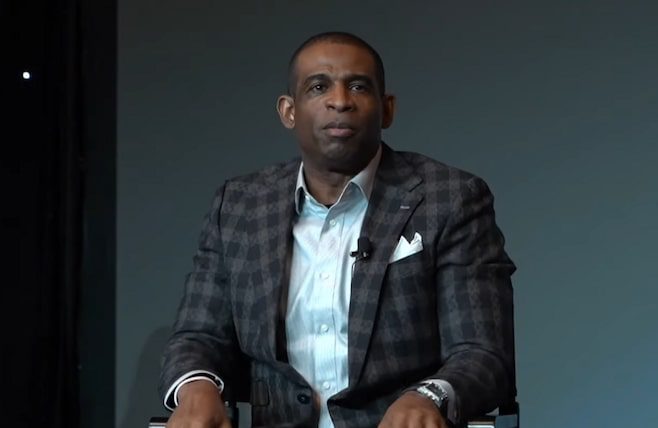 Deion Sanders, aka Coach Prime, has the sports world buzzing following his 2-0 start as head football coach for the University of Colorado (CU). The Buffaloes, who were 1-11 last season, upset heavily favored Texas Christian University on Sept. 2 and then beat longtime rival Nebraska the following weekend. Amid all the hype and attention, Sanders continues to praise God and talk openly about his faith.
RELATED: Facing Possible Amputation, CU Coach Deion Sanders Says, 'I Have Full Trust in Jesus!'
Sanders, the 1990s sports icon known as "Prime Time," sounds like a preacher while rallying his players. But when it's time for the coach to be spiritually nurtured, he turns to Dr. E. Dewey Smith, pastor of House of Hope Atlanta. Smith stepped into that role after Sanders' former spiritual adviser, Bishop Omar Jahwar, died of complications from COVID-19 in March 2021.
"He wants somebody to sharpen him the way he's been sharpened athletically, with coaches and trainers," Smith said of Sanders. "He desires the same thing even more spiritually."
Pastor Says God Called Deion Sanders To 'Rebuild' and 'Fortify'
Smith, who's been in ministry for 33 years, flew to a Mississippi hospital in fall 2021 when Sanders had surgery for blood clots and almost lost his leg. "His life was on the line," said Smith. "Fast-forward two years, and here he is now, following his dreams…It warms my heart, man, showing how good God is." Sanders has had additional surgeries for blood clots, and amputation is still a possibility.
Speaking to an Atlanta TV station, Smith said he told Sanders a couple of years ago, "God is raising you, I believe, to be a Nehemiah. God is calling you to places that seemingly are in ruins to rebuild the city, fortify areas that have been torn down." At his introductory press conference at CU, Sanders echoed that idea, saying, "When God sends me to a place, he sends me to a place to be a conduit of change."
Coach Prime has overhauled CU's football program, bringing in big-name players and attracting recruits. The Buffs are now ranked 18th in the nation.
Sanders received some flak for leaving Jackson State, a historically Black university, to head to the mostly white, wealthy community of Boulder. But he said, "God always calls me to the need. God always calls me somewhere to satisfy needs."
The next challenge for Sanders, according to Smith, is to be the first Black head coach of a Power 5 team to win a national championship. "People have always loved and respected him for years athletically, and he has a magnetic personality," the pastor said of Sanders. "He literally believes that all things are possible." That's why Smith said he knows "without a shadow of a doubt" that Sanders will "be successful wherever he goes."