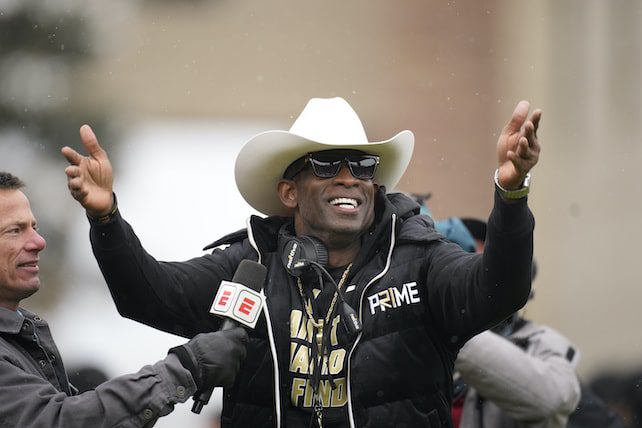 University of Colorado (CU) head football coach Deion Sanders recently revealed that he might need to have his left foot amputated. As ChurchLeaders has reported, the former pro athlete and outspoken Christian lost two toes during a health scare in 2021.
Last week, cameras from "Thee Pregame Show" filmed Sanders, known as Coach Prime, meeting with his medical team. The 55-year-old, who's been walking with a limp since a 2021 ordeal with blood clots and compartment syndrome, described ongoing pain plus the loss of feeling in part of his left foot. A remaining toe is dislocated and sticks out.
'Things Can Cascade,' Doctor Tells Deion Sanders
"You just have to understand what the risks are," vascular surgeon Dr. Donald Jacobs told Sanders. "Things can cascade" to the point where you "could lose the foot." Dr. Max Wohlauer, another vascular surgeon, said the blood pressure near Sanders' ankle is now two-thirds of that in his arm.
"I know what risks are," replied Sanders. "I only have eight toes, so I'm pretty sure I understand." He said if doctors recommend an amputation, he hopes to get it over with before the busy football season begins. "This is the best downtime I have," the coach said of the summer months.
Sanders, who was hired at CU last December, is preparing for his first season leading the Buffaloes. During his time at Jackson State, he had to miss three games due to multiple surgeries on his leg and foot. Sanders later admitted he rushed his return to the sidelines because his QB son requested his presence. "God helped me through," Sanders said of that health scare.
Deion Sanders: 'I Have Full Trust in Jesus'
Sanders, who played both professional football and baseball, has been open about his medical challenges as well as how his faith helps him cope. He described praying and speaking in tongues during hospital stays in 2021.
In a June 15 Instagram post, the coach shared the video of his meeting with doctors. In the caption, he wrote: "As you know I've faced some medical challenges with my foot but I've never said 'WHY ME' – I keep moving forward, progressing . . . See you never know what a person may be going through while I sit in your seat of [judgment] but you can trust and believe that we are all going through something – just keep the faith and know that if He brought you to it, He will bring you through it."
Sanders, who added that he's "built for this," wrote that he has "full trust in my medical team…and more importantly I have full trust in Jesus!"