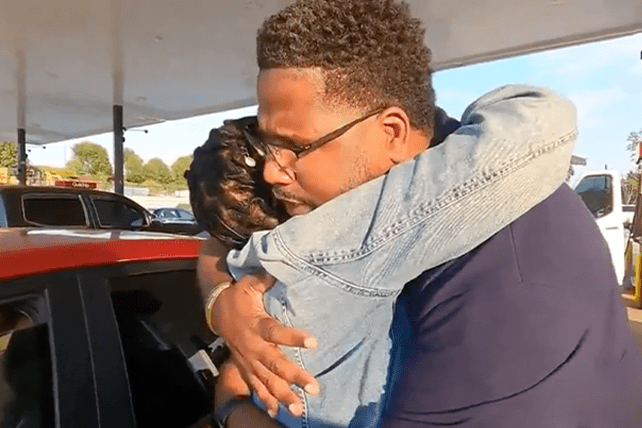 Roughly a week after someone attempted to steal gas from its church buses, a South Carolina congregation held a "Pop up at the Pumps" event to give away gas cards to people in the community. 
Early in the morning on Sept. 12, security cameras on the campus of Rocky Creek Missionary Baptist Church in Simpsonville captured footage of a woman attempting to steal gas from the church's buses. 
The woman pulled up to one of the buses and got out of her car holding a red gas container. She then began siphoning the gas from the bus. However, midway through the process, she left the gas container and drove away.
The next morning, the church's pastor, Adrian Wideman, took to Facebook not merely to warn the community of the intruder but also to invite her to church. 
RELATED: SoCal Church Considers Moving Following Break-In, Vandalism
"To all area churches in the Simpsonville area, the Rocky Creek Missionary Baptist Church had a visitor last night around 3:00am," wrote Wideman. "Although we are a loving and giving church, we need our gas for our [buses] that we use to transport our students to and from school."
Wideman continued, "If you are able to come to the church at 3:00 in the morning on a Tuesday to take gas from our [buses], I want to invite you to Sunday School at 9am and Worship service at 10am on Sundays. See You Sunday!"
In an interview with WYFF, Wideman expressed sympathy for the would-be thief.
"Obviously, if you have the ability or the need to come to a church at 3 o'clock in the morning to steal gas, there's something else there," Wideman said. "As she was siphoning the gas, all of a sudden she just got back in the car and drove off. And I would like to believe that something in her heart, something in her mind, tugged at her."
"My prayer is that she actually heard the voice of God," Wideman added. 
RELATED: Former Liberty Football Coach, Now Auburn Head Coach Helps Baptize Over 200 Auburn Students on Campus
A week later on Sept. 20, Wideman took a team of church members to a local gas station and handed out over 100 white envelopes containing gas cards, many of them donated by members of Rocky Creek Missionary Baptist Church.