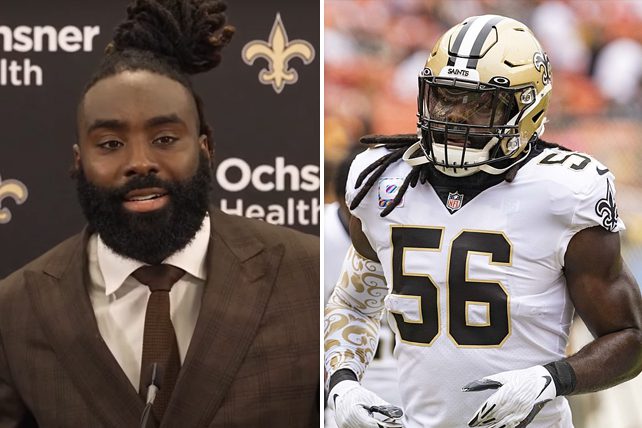 New Orleans Saints linebacker Demario Davis is continuing to use his status as an NFL player to boldly draw people's attention to Jesus. After the Saints beat the Carolina Panthers 20-17 on Sept. 18, Davis took time during the post-game press conference to challenge his fellow Christians to "share the gospel," whether or not they have a platform like his.
"Well, I wasn't gonna preach today," said Davis. "I wasn't going to do that, but if I didn't, then I would not be being obedient. I told the Lord before today if I went back to the podium that I would make sure that I praised him the proper way."
RELATED: New Orleans Saints' Demario Davis Uses Post-Game Presser To Proclaim, 'Jesus Is Knocking'
Alluding to the press conference he gave following the Saints' victory over the Tennessee Titans on Sept. 10, Davis said, "The last time I was up here God did an extraordinary work through me. It exceeded past myself and into and around the country. And with that I owe proper praises to God. It had very little to do with me and everything to do with him, so I have to be obedient."
Demario Davis Urges, 'Share the Gospel'
Demario Davis is a 34-year-old father of five. He started his career in the NFL in 2012 with the New York Jets and has been playing for the New Orleans Saints since 2018. During his post-game press conference on Sept. 10, Davis shared that on Friday, Sept. 8, his 4-year-old daughter, Carly-Faith, had experienced an epileptic seizure. During the seizure, which lasted for 30 minutes, Carly-Faith foamed at the mouth and stopped breathing twice.
The suffering of their daughter drove Davis and his wife, Tamela, to pray through the night on Carly-Faith's behalf. Carly-Faith then experienced a miraculous recovery, talking that night "clearer than before" and showing a renewed mental sharpness unusually early for what is typical following a seizure. "God gave me just what I asked for, plus some," said Davis. "I was blown away."
The linebacker encouraged viewers to be prepared to answer the "knock" of God in their lives. "I just want people to know if you've got stuff going on in your life, lay it before the Lord," he said. "Lay it before the Lord and trust. And be expecting of a knock. Because the Word says what you have to do is, you have to get up and open the door."
Davis gave an update on his daughter during the Sept. 18 press conference, saying she has a "full bill of health" and "had a phenomenal week."
"She's doing great," he added. "As I said before, that knock at the door was answered, and God came in and did a wonderful work in my family."
Davis noted that his words from last week resonated with many people. "The reality is, when you see a message go around that strong, it's a lot of people that are out there hurting," he said, "and it's a lot of people who are waiting on a knock, and I want to continue to reiterate your knock may not come right away, but to be patient and to wait on the Lord, and he will do what he said he'll do."