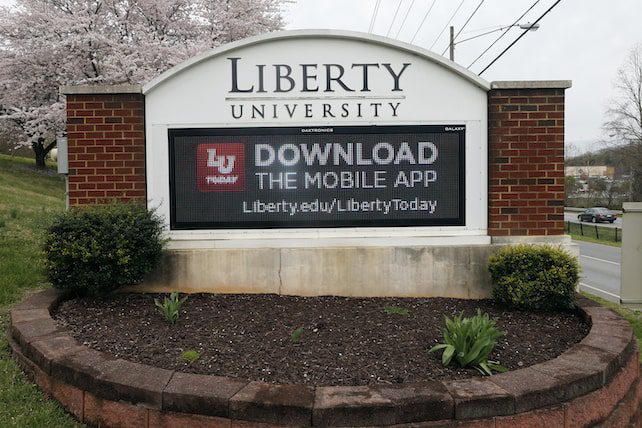 UPDATED Oct 18, 2023: Liberty University (LU) is facing an "unprecedented fine" in the amount of $34.7 million, according to university president, Dr. Dondi E. Costin. In an interview with Fox News Digital, Costin stated his belief that the U.S. Education Department leaked a copy of a preliminary report on an investigation it is conducting against the university as a way to levy the fine against it.
The Education Department has been looking into whether LU violated the Clery Act, which requires American universities that receive federal aid to disclose annual statistics about campus crime and safety.
"The most damaging element of this whole process is the fact that for the first time that any of us are aware, the Department of Education leaked a preliminary report while we are in the process of negotiating with the department about all the advancements that we've made," said Costin. "And so that's the biggest issue. The leak is intentionally aimed at laying the groundwork for an unprecedented fine and the report is filled with factual errors that the Department has admitted to Liberty in their negotiations."
Save71, a group of alumni, students, and faculty calling for new leadership at Liberty, pushed back on Costin's claim, calling it "a Falwell-like move." The group suggested it could have been an LU board member who leaked the report.
---
ChurchLeaders original article written on Oct. 4, 2023, below.
While investigating Liberty University, federal officials reportedly found that a campus-wide culture of silence discourages victims from reporting crimes. The private Christian school in Lynchburg, Virginia, also might be underreporting criminal complaints it receives, trying to maintain its reputation of safety.
The U.S. Department of Education has been investigating whether Liberty complies with the Clery Act, a 1990 law that requires U.S. colleges participating in federal financial aid programs to disclose annual statistics about campus crime and safety.
The findings aren't final and haven't been made public. But media outlets that obtained copies say the report includes accusations of sexual violence against a former Liberty president and a senior administrator. It also alleges that Liberty officials destroyed evidence by wiping hard drives and shredding documents.
Some Liberty students and employees say the school's honor code, called the Liberty Way, prevents victims of crime—especially of sexual violence—from making reports and going public. The code includes references to chastity, appropriate dress, and prohibitions against alcohol and drugs.
Liberty University issued a statement saying it is cooperating with federal officials and "continues to prioritize safety and security for all students, faculty, and staff." The school, which has more than 90,000 students, was founded in 1971 by televangelist Jerry Fallwell Sr. and Elmer Towns. Jerry Falwell Jr. served as university president from 2007 to 2020, when he was ousted amid scandals.
Reported Allegations Against Liberty University
The Washington Post, which obtained a copy of the preliminary report, said Liberty "failed to warn the campus community about gas leaks, bomb threats, and people credibly accused of repeated acts of sexual violence—including a senior administrator and an athlete." Education Department investigators reportedly found that Liberty leaders instructed the school's police department not to issue warnings or alert the campus community to possible threats of crime.