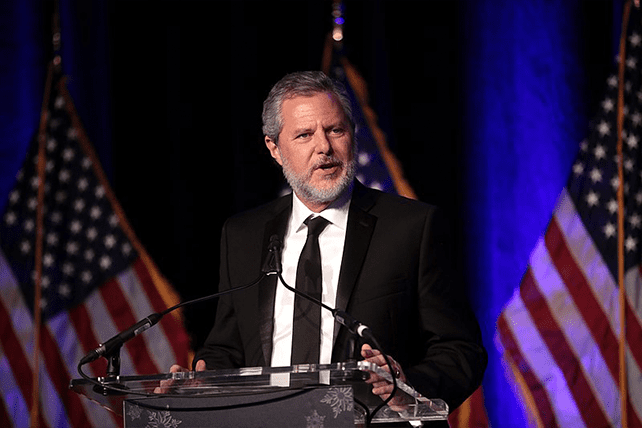 Jerry Falwell Jr. is suing Liberty University in Lynchburg, Virginia, claiming that his former employer has withheld $8.5 million in retirement benefits that were previously promised to him. 
The son of the school's founder and conservative activist Jerry Falwell Sr., Falwell has been credited with bringing Liberty University back from the brink of financial collapse while serving as its president from 2007 to 2020.
However, Falwell's tenure at the school ended amid scandal and controversy in 2020 after Falwell posted an image to social media of himself alongside a woman with their pants unbuttoned and unzipped. The image was meant to be taken in jest, but many nevertheless found it troubling. 
After being placed on indefinite leave, Falwell and his wife, Becki, made a public statement that Becki had engaged in an extramarital affair and that their family was now being blackmailed. 
RELATED: Jerry Falwell Jr. Addresses 'False Media Reports' About Him Following Vanity Fair Profile
The next day, Reuters published a now-infamous article detailing the account of Giancarlo Granda, a former Miami Beach pool attendant who claimed that the Falwells had engaged in a lurid relationship with him, in which Falwell watched him and Becki have sex for his own pleasure. Granda also claimed that Falwell had used his money and influence to control him and keep him quiet. 
The Falwells vehemently deny the details of Granda's account, though they admit that Becki did have an affair with Granda. 
Granda's telling of the story was recently the subject of a Hulu documentary titled "God Forbid: The Sex Scandal That Brought Down a Dynasty."
When Falwell resigned from Liberty University, it was announced that the two parties had settled on a $10 million severance package, because Falwell had not been formally accused of or admitted to wrongdoing. 
Since that time, Liberty and Falwell have volleyed various lawsuits. In October 2020, Falwell sued Liberty for allegedly damaging his reputation after the university launched an investigation into the school's previous financial entanglements with Falwell's personal real estate investments. While Falwell later dropped that suit, he later revived it in November 2021. 
RELATED: UPDATE: Jerry Falwell Jr. Cancels the 'Real' Liberty Graduation Party at Family Farm Due to Health Concerns
Liberty University sued Falwell in April 2021 for allegedly breaching his contract while working for the university, as well as violating his fiduciary duty. In the suit, the school claims that Falwell withheld information that would be damaging to the school's reputation during severance negotiations, including his alleged problems with alcohol and the details of Becki's affair with Granda.