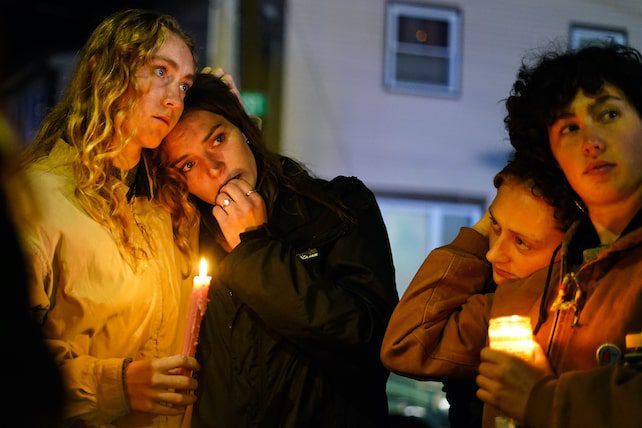 Following the worst mass shooting in Maine's history, community members gathered for remembrance and prayer Sunday evening. More than 1,000 people attended the vigil for the Maine shooting at Lewiston's Basilica of Saints Peter and Paul, with overflow crowds watching on large screens outside.
On Oct. 25, a gunman killed 18 people and wounded 13 more during a rampage at several Lewiston locations. After a two-day lockdown in the area, authorities discovered the body of the suspected gunman, age 40.
Lewiston Pastor: 'See the Rays of Light in Darkness'
When the Rev. Daniel Greenleaf led mass Sunday morning, he said church members have "practiced" their faith for such times. "We can see the rays of light in darkness," he told worshipers. The priest, who at one point asked people to raise two fingers in a peace sign, added, "We cannot fix this. But then again, human beings are not machines to be fixed."
During that evening's vigil, Todd Little, pastor of First United Pentecostal Church, assured mourners the recent tragedy won't define them. "Fear, anxiety, and trepidation will not dictate our present or our future," he said.
Gary Bragg, pastor of Lewiston's Southern Baptist Church, urged attendees to "seek healing over relief," because relief and pain are temporary, while "healing is permanent."
Allen Austin, pastor at Pathways Vineyard Church in Lewiston, told people in the tight-knit town of about 40,000 to "stay focused on the things that invite peace into our communities." His hope, he added, is that the tragedy leads to a "kinder people, a more compassionate people, a more merciful people."
'Let Our Hearts Pour With Grief and Joy'
Four members of Lewiston's deaf and hard-of-hearing community were killed in last week's shootings. At the vigil, Kevin Bohlin used American Sign Language to speak about that group's "rich tapestry" and "strong sense of belonging." Although the victims are deceased, he said, "They are directing us to come together and make a difference in this world."
Bohlin continued, "Let our hearts pour with grief and joy, with the people that have been traumatized by escaping and/or surviving and those who have also been taken from us. Let us celebrate and honor them by being there unconditionally for their family."
During Sunday morning worship at Lisbon Falls Baptist Church, Pastor Brian Ganong led prayers for wounded victims, for families of those killed, for first responders and medical personnel, and also for the family of the deceased gunman. Ganong indicated the gunman's family had some ties to church members. "We may never know the reason why" the shooting occurred, added the pastor.