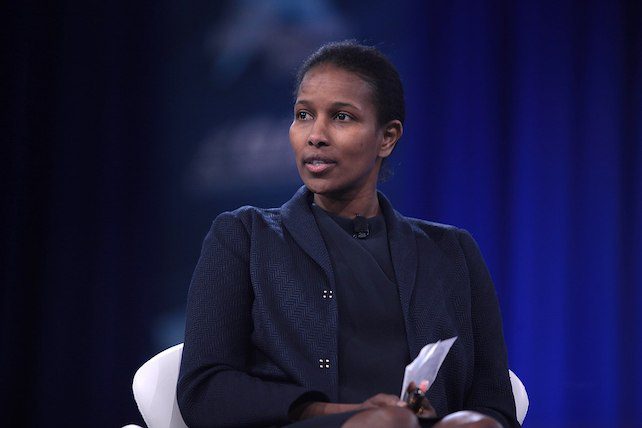 In a new essay, human rights activist and longtime atheist Ayaan Hirsi Ali revealed she has converted to Christianity. The author, podcaster, and former Dutch parliamentarian wrote that Christianity not only gives life purpose but also is necessary to preserve Western civilization.
In her 2006 book "Infidel," Hirsi Ali described her upbringing in Africa and the Middle East. She survived female genital mutilation, fled to the Netherlands to escape an arranged marriage, and eventually rejected Islam. Hirsi Ali's disillusionment with that faith stemmed partly from the 9/11 terrorist attacks.
The 54-year-old research fellow at Stanford University's Hoover Institution had been a vocal member of the New Atheism movement, along with Richard Dawkins and the late Christopher Hitchens.
Ayaan Hirsi Ali: 'Why I Am Now a Christian'
Ayaan Hirsi Ali's essay on the UnHerd website, titled "Why I Am Now a Christian," is a counterpoint to philosopher Bertrand Russell's 1927 lecture "Why I Am Not a Christian"—which led Hirsi Ali to embrace atheism two decades ago.
Now, however, she said she's realized that life is "unendurable" and "very nearly self-destructive" without beliefs to fill the "God hole" (a concept posited by thinkers such as St. Augustine and Blaise Pascal). That emptiness can't be filled with a "jumble of irrational, quasi-religious dogma," wrote Hirsi Ali. Although she admitted she still has "a great deal to learn about Christianity," she is discovering "a little more at church each Sunday."
"I have recognized, in my own long journey through a wilderness of fear and self-doubt, that there is a better way to manage the challenges of existence than either Islam or unbelief had to offer," Hirsi Ali added. "Fortunately, there is no need to look for some New Age concoction of medication and mindfulness. Christianity has it all."
Christianity Can Protect Western Civilization, Says Ayaan Hirsi Ali
In addition to her personal reasons for converting, Ayaan Hirsi Ali also noted that Christianity is Western civilization's only hope from further erosion. "Modern, secular tools" fall short, she wrote, for combating authoritarian regimes (such as Russia and China), "global Islamism," and "the viral spread of woke ideology, which is eating into the moral fiber of the next generation."
Hirsi Ali realized that "Russell and my atheist friends failed to see the wood for the trees. The wood is the civilization built on the Judeo-Christian tradition; it is the story of the West, warts and all."