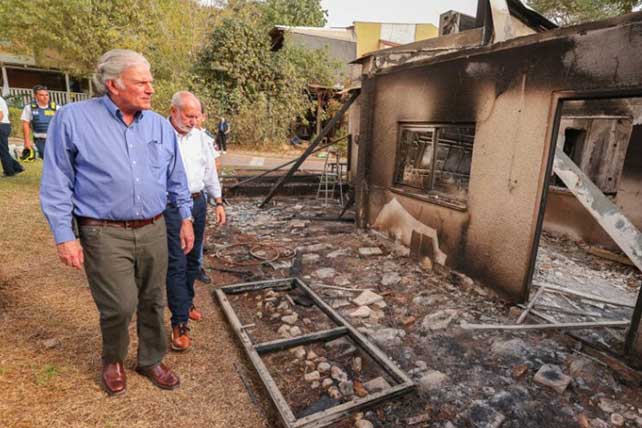 (RNS) — Franklin Graham, who leads the Christian humanitarian relief organization Samaritan's Purse, has seen war zones from Iraq to Ukraine. On his way to Israel last week to assess the damage from the Oct. 7 Hamas terrorist attack, he was prepared to offer the country 14 ambulances to replace ambulances compromised or destroyed in the fighting.
But as he surveyed the destruction during his four days in Israel he decided that Magen David Adom, Israel's equivalent to the Red Cross' first responders, also needed a small fleet of armored ambulances. "They've got to have something that's better protected," Graham said in an interview on his return on Friday (Nov. 17).
Israel has been the beneficiary of millions of dollars from Christian charities and a flood of volunteers who are helping thousands of Israelis who have been evacuated from their homes, both near the Gaza border and at its northern border, where Hezbollah, the Lebanese militant group backed by Iran, has fired rockets. Many of the approximately 250,000 Israelis displaced by the attack are living in hotels.
RELATED: 'Every Demon in Hell Has Been Turned Loose'—Franklin Graham Warns NRB 2023 To Prepare
Other Christian humanitarian groups such as the Southern Baptist Convention's Send Relief are providing temporary housing, bomb shelters, medical supplies, food and trauma counseling to more than 20,400 of the most vulnerable survivors, said Scott Knuteson, a spokesperson for Send Relief.
Like Samaritan's Purse, these humanitarian organizations that work in multiple countries around the globe, are now joining a crowded field that includes many evangelical groups focused only on aid to Israel.
They include Christians United for Israel, which calls itself the largest pro-Israel organization in the U.S. It has raised nearly $3 million to fund first responders and other Israeli charities since Oct. 7. CUFI was founded by San Antonio megachurch pastor John Hagee, a prominent Christian Zionist who spoke at the recent March for Israel on the National Mall.
The International Christian Embassy Jerusalem, which provides a host of social services to residents of Israel on an annual basis, has also ramped up its relief response, as have the Isaiah Project, the Joshua Fund and the Philos Project, all of which operate mostly to benefit Israel.
One of Israel's biggest philanthropies, the International Fellowship of Christians and Jews, founded by the late Rabbi Yechiel Eckstein, an American Israeli, has been cultivating relationships with evangelicals for years.
Israeli governments have supported such ties and pursued connections with Christian philanthropies. As evidence, Graham secured a meeting with Israeli Prime Minister Benjamin Netanyahu in Tel Aviv last week.
RELATED: Franklin Graham Slams Democrats for 'Weaponizing Legal System' Against Trump for 'Their Political Gain'
Graham said Netanyahu looked tired. "I told him, Mr. Prime Minister, I've come to pray for you," Graham said. "We talked for maybe 30 minutes and I prayed for him that God would strengthen him, give him wisdom, give him a clear mind and give him victory over his enemies."
Aid from Christian humanitarian groups has also flowed into Gaza. Catholic Relief Services, for one, has provided cash assistance to more than 16,000 families, or about 100,000 individuals, in Gaza, a spokesperson said. Since Israel has restricted humanitarian relief as it lays siege to the strip, most of the aid comes in the form of cash.