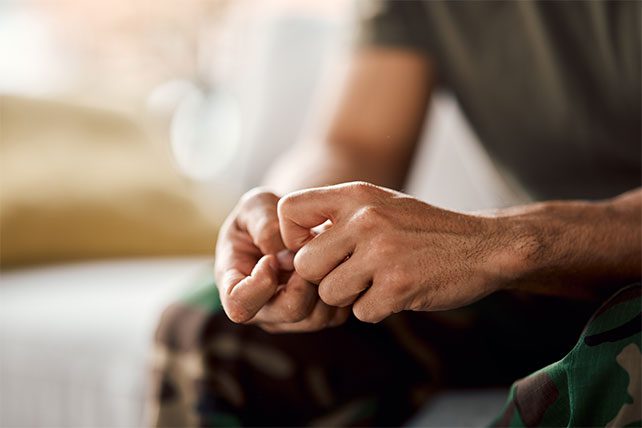 "Return to your rest, O my soul, for the Lord has dealt bountifully with you" (Psalm 116:7).
Want to see anxiety demonstrated? Get on any highway in the country during morning rush hour traffic. One out of every 10 drivers is either running late, in a hurry, under the gun from the boss or the school kids, and taking it out on every other motorist on the road. They're not wicked, just stressed.
They're anxious.
A friend wrote to thank me for an article on depression. "I'm not really depressed," he said, "but anxious. I have a lot of problem with anxiety."
I could write a book on that subject myself. (A friend, Dr. Larry Kennedy—now in Heaven and a member of the great cloud of witnesses—did just that. I told him he might have thought of a more uplifting title than Down With Anxiety, but he felt the play on words worked.)
I've been anxious. It seems to go with the job of pastor.
Ask any pastor how well he sleeps on Saturday night.
Let's not add to the misery of those battling anxiety by calling them unbelievers. Anxiety may well be the norm for those who live in uncertain times. And yet there is a Scriptural answer for it.
Perhaps we should think of anxiety not so much as depression as a blend of worry and fear. It's a first-cousin to stress. Anxiety is fear about something that may or may not happen in the future. And it doesn't go away or cave in when you become a believer in Christ, in the same way that temptation actually increases after salvation. Sometimes temptations and anxieties and fears are attacks of the enemy, but often they are merely things we do to ourselves. (The unholy trinity of the world, the flesh and the devil are at work. But let's not credit the last of the three with more than he is due.)
Anxiety is normal. But it tends to yield to faith.
I sat on the plane, about to take my first trip in a commercial airliner. I was 30 years old and headed to Detroit for a revival across the river in Ontario. I'd been up in small planes a few times, but over the years had managed to work up a certain amount of anxiety about the big ones.
"Lord," I whispered, the plane still sitting at the gate, "my life is in Your hands." Just as clearly He spoke back to my spirit. "And just where do you think it has been all these years?"
I relaxed and went to Canada and had a wonderful meeting. Since then, I have flown hundreds of times, all over the globe. Anxiety still shows up from time to time, but I remind my unsettled spirit that the Lord is in control and I refuse to stay home just because of fear. Whether the anxiety goes away or not, I board that plane and have a great flight.
The Word of the Lord is the best cure for anxiety I know.
A few favorite texts on the subject (followed by a more in-depth look at Psalm 116:7):
–The friend whose note triggered this article replied that Isaiah 41:10 meant a lot to him. "Fear not, for I am with you; be not dismayed, for I am your God. I will strengthen you, yes, I will help you. I will uphold you with My righteous right hand." I suggested that verse is a companion to Hebrews 13:5-6, "For He hath said, 'I will never leave thee nor forsake thee.' So that we may boldly say, 'The Lord is my helper; what can man do to me?'"
–Everyone's favorite is Philippians 4:6-7. "Be anxious (fearful) for nothing, but in everything by prayer and supplication with thanksgiving, let your requests be made known unto God. And the peace of God which surpasses comprehension shall guard your hearts and minds through Christ Jesus." The outline used by Dwight L. Moody in the mid-1800s, and everyone since, says: Worry about nothing; pray about everything; thank God for anything.
–And then there is Psalm 56:3. "Whenever I am afraid, I will trust in You." When a woman told D.L. Moody that was her favorite text, he replied, "I prefer the verse following it. "I will put my trust in Thee and not be afraid." In both cases, the point in the same: Trust, trust, trust. After all, "without faith, it is impossible to please God" (Hebrews 11:6).
–The 23rd Psalm. Psalm 27. Psalm 103. The list is endless (well, OK, there are only 150 psalms).
–In the New Testament, check out Mary's song of praise in Luke 1. If the pastor is anxious before his Sunday sermon, imagine the anxiety that may have filled this young lady who was being charged with bringing not a message to a flock but The Messenger (!) to the world. And yet, Mary, ever trusting, said, "My soul magnifies the Lord, and my spirit has rejoiced in God my Savior… He has filled the hungry with good things… He has helped His servant Israel, in remembrance of His mercy…"
And then, back to Psalm 116:7, the gold standard for the anxious believer…
He was anxious: "The pains of death surrounded me, and the pangs of Sheol laid hold of me; I found trouble and sorrow."
He called on the Lord: "Then I called upon the name of the Lord: O Lord, I implore You, deliver my soul!"
He spoke to himself: "Return to your rest, O my soul, for the Lord has dealt bountifully with you."
He remembers how the Lord has dealt with him in the past: "(The Lord has delivered) my soul from death, my eyes from tears, my feet from falling…"