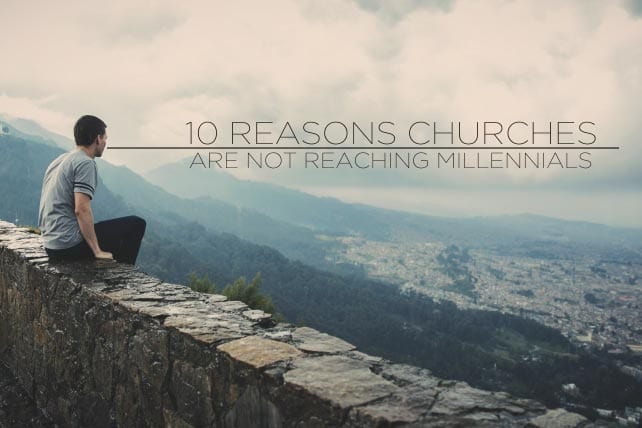 Many people are pessimistic about Millennials, but I believe the next generation is poised to transform the culture (and the world) for the good. For many churches and leaders, however, Millennials are (to borrow from Winston Churchill) "a riddle wrapped in a mystery inside an enigma."
I would agree with Churchill's statement on some levels, but the riddle can be solved. Once you find out what makes Millennials tick, they are not that puzzling. They simply have a unique set of passions, interests and viewpoints on the culture and the world.
But the church has largely failed to take stock in this generation because they are different. This is a problem. A lack of knowledge breeds fear, and this is true of the church in relation to Millennials. Many churches do not take the time to know the next generation, so they are stuck with attaching stigmas (many untrue) to them.
There are churches, however, that are thriving with Millennials, and if you did some investigation I believe you would find similar results, regardless of the church locale.
So, what differentiates a church culture that attracts Millennials from one that repels them? There are many factors, but I want to highlight 10 really important ones. If your church wonders why reaching the next generation is difficult, the following points might shed some light on your struggle.
1) There is a strong resistance to change.
The next generation doesn't understand why churches refuse to change a program, activity or even an entire culture if they aren't effective. Millennials don't hold traditions close to their heart. In fact, for many (myself included) traditions are often the enemy because many churches allow traditions to hinder them from moving forward.
Is this right? Maybe. Maybe not. But it is a reality nonetheless. One that must be understood.
Millennials are tired of hearing the phrase "this is how we have always done it." That answer is no longer acceptable. Millennials want to change the world. Many times traditions hold them back from this. Change is necessary to remain focused on the vision and be externally focused, among many other things. The next generation understands this.
2) A compelling vision is lacking or nonexistent.
If creating an environment totally void of the next generation is your goal, especially those with any initiative and talent, refuse to cast vision in your church. That will drive Millennials away faster than the time I saw a rattlesnake in the woods and screamed like a girl. Don't judge me. I hate snakes … and cats.
It baffles me when a church doesn't value vision and planning. In no other arena of life do we refuse to vision and plan, but for some reason the church is different.
If your vision doesn't compel, move or stir people, your vision is too small. —Craig Groeschel