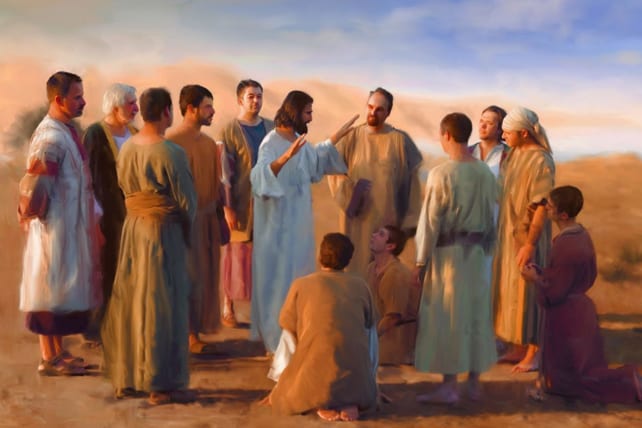 Ever wonder why God takes you through valleys and storms of life?
Through the ups and downs and twists and turns with your children? Why do you have the miserable boss or annoying co-workers you have? Why does "Needy Harry" seek you out every Sunday? Why has God stuck you in the town of "Boresville, USA"? Is God trying to teach you something?
Jesus is continually "doing something" in our lives. And he isn't simply trying to teach us "lessons." He has plans for our lives. Plans to transform us into his own likeness. And Jesus fulfills those plans. Perfectly. Completely. And nothing can stop him from fulfilling his purposes for us. When I first called upon the Lord I was desperate for him to deliver me from my slavery to sin. I wanted to have some peace and joy in my life. I didn't know that to believe in Jesus meant I was signing up to become a disciple. I was more like the crowds of people who just wanted Jesus to heal them. I didn't I needed to enlist to become a life-long follower of Jesus.
I think that sometimes we forget that we are disciples of Jesus.
At least I do. But we never graduate from being disciples in this life. Even after we have followed him for 35 or 65 years. Even if we are teaching and discipling others. Each one of us will always be a disciple of Jesus.
A disciple is a student. An imitator. A learner. A lifetime learner.
So what does Jesus want to teach you and me? How does he intend to mold us into his likeness?
Here are powerful life-transforming lessons Jesus taught and is still teaching me.
1. Jesus teaches his disciples to trust him.
Trust in the LORD with all your heart, and do not lean on your own understanding. PROVERBS 3:5
Why do we get anxious when finances are tight? Why do we get fearful about our children? Why do we worry about the future? Ultimately it's because we forget to trust the Lord. To trust that he will provide for us. To trust that he cares about our children infinitely more than we do. To trust that he will hear our prayers. To believe he will fulfill his promises.
Jesus told his disciples to trust God to provide for them.
"Therefore I tell you, do not be anxious about your life, what you will eat or what you will drink, nor about your body, what you will put on. Is not life more than food, and the body more than clothing? Look at the birds of the air: they neither sow nor reap nor gather into barns, and yet your heavenly Father feeds them. Are you not of more value than they? And which of you by being anxious can add a single hour to his span of life? And why are you anxious about clothing? Consider the lilies of the field, how they grow: they neither toil nor spin, yet I tell you, even Solomon in all his glory was not arrayed like one of these. But if God so clothes the grass of the field, which today is alive and tomorrow is thrown into the oven, will he not much more clothe you, O you of little faith? Therefore do not be anxious, saying, 'What shall we eat?' or 'What shall we drink?' or 'What shall we wear?' For the Gentiles seek after all these things, and your heavenly Father knows that you need them all. But seek first the kingdom of God and his righteousness, and all these things will be added to you. MATTHEW 6:25-33
What are tempted to be anxious about right now? What do you need to trust the Lord for? Ask him to help you trust him. Ask him to give you his peace about whatever you're going through.