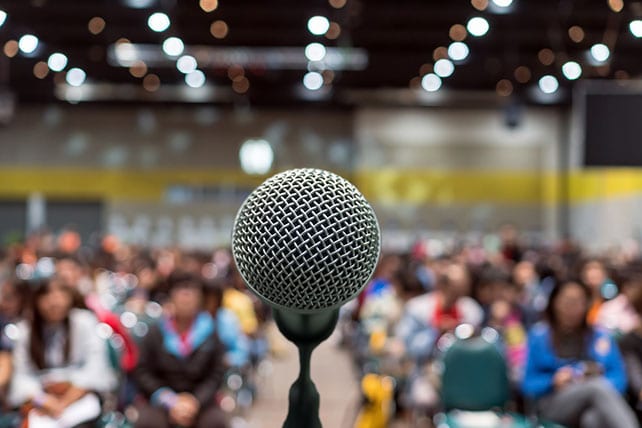 If you feel you have messages worth sharing with the wider Christian community, you'll need to know how to get speaking engagements at churches. Several years ago I sent a lesson to the participants of Dream Year Books about how to get speaking engagements at churches, and perhaps these tips will be helpful to you.
How to Get Speaking Engagements at Churches
1. Choose stark, compelling ideas. 
Rob Bell launched his speaking career by teaching through the book of Leviticus. Nancy Duarte masters the art of presentations. Steven Pressfield has become known for writing about Resistance. Timothy Ferriss advocates a four-hour work week. What is the one stark, compelling idea for which you can be known?
2. Work on improving your speaking ability.  
Organizers book speakers for ideas. Speaking ability is secondary. But if you're just learning how to get speaking engagements at churches, make sure you're good at speaking. Don't just rest on your experience. Actively seek out ways to improve your abilities. Take a speaking course. Read books. Watch famous speeches. Practice your talks. Review your performance on film. Get feedback from others.
3. Treat the organizer as a client.  
I know logic says you're the client. But if you walk in with a set of demands, you'll never get invited back. And word-of-mouth works both ways. If you surprise the organizer with a friendly, flexible and helpful relationship, you'll see more speaking opportunities unfold. Write a thank-you note afterward. Respect the allotted speaking time. Spend time with their team.
4. Have someone else nominate you.  
Whenever a speaker contacts me directly, it feels desperate. I have never booked anyone who contacted me to nominate themselves. On the other hand, I've found almost all of my speakers by listening to trusted sources who nominated others. In learning how to get speaking engagements at churches, be sure to recruit a few friends to share your availability with organizers they know.
5. Limit the language of your availability.  
On your website, don't be too flagrant with your availability. State you're "accepting two or three engagements in the fall" regardless of how many you'd like to book, and provide an email address to contact you. No one wants to book a desperate speaker who is always available. Organizers want to feel like they're getting a limited edition.