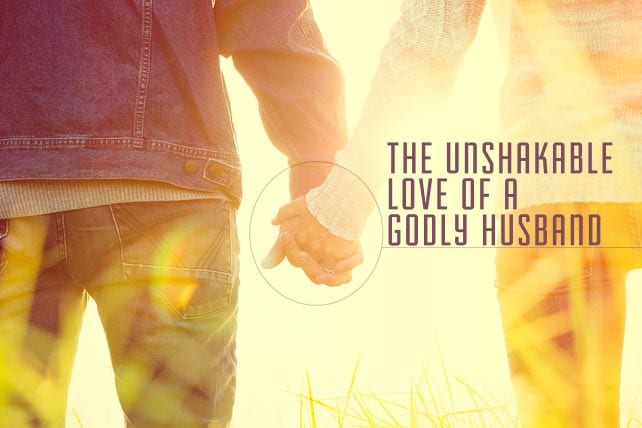 The unshakable love of a godly husband is what all Christian husbands can aspire to. This is sound marriage advice for every married man.
Imagine how precarious your relationship with Christ would be if He only loved you when it was convenient for Him, or only when you were most attractive to Him. Everyone knows what it's like to be loved imperfectly—and, if we're honest, what it's like to love someone else imperfectly.
Believers ought to be perpetually grateful that God's love for us isn't conditional, and that He loved us even while we rejected Him (Romans 5:8). In Ephesians 2, Paul wrote about God's transcendent love for us in the midst of our rebellion.
And you were dead in your trespasses and sins. … Among them we too all formerly lived in the lusts of our flesh, indulging the desires of the flesh and of the mind, and were by nature children of wrath, even as the rest. But God, being rich in mercy, because of His great love with which He loved us, even when we were dead in our transgressions, made us alive together with Christ (by grace you have been saved), and raised us up with Him, and seated us with Him in the heavenly places in Christ Jesus. (Ephesians 2:1-6)
So moments later, when Paul penned the instruction for husbands to love their wives "just as Christ also loved the church and gave Himself up for her" (Ephesians 5:25), he was not speaking about God's love in vague terms. His original audience understood that he was not telling husbands to love their wives if the wives deserved it, or if the husbands felt like it.
He gave an absolute command. Biblical love is a willful commitment to self-sacrifice, and it is not at all based on how we might "feel" at any point about the object of our love.
A Godly Husband Shows Sacrificial Love
A husband who is unwilling to sacrifice for his wife does not even know what true love is. Those who regard their wives as servants under their sovereign headship haven't begun to appreciate the true biblical pattern for marriage and family. Selfish husbands therefore will never know what it is to have a fulfilled marriage and family. True happiness in marriage is possible only to those who follow the divine pattern.
Properly understood, Ephesians 5:25 demands that the husband die to self. In effect, he is called to crucify himself for the sake of his wife. It's not talking about some petty sacrifice, such as helping with the dishes now and then. It means the husband must devote his entire life—and quite literally even be willing to die—for the good of his wife.
Remember, genuine love "does not seek its own" (1 Corinthians 13:5). The man who is concerned only with getting what he can from marriage is sowing the seeds of destruction in his family. To love your wife as Christ loved the church is to be preoccupied with what you can do for her, not vice versa. After all, Christ loves us not for selfish gain, but because He is a gracious Lord who delights to bestow His favor on us.