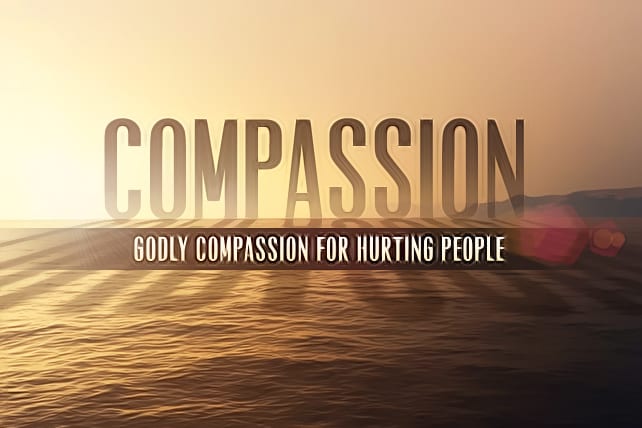 "The Lord's loving-kindnesses indeed never cease, for His compassions never fail. They are new every morning" (Lamentations 3:22-23). Scripture often uses high and lofty expressions of God's great compassion. But what does that compassion look like in tangible human terms? And are God's people able to replicate His compassion?
The Old Testament furnishes a wonderful, practical, real-life illustration of God's compassion in the account of David and Mephibosheth. Mephibosheth, a grandson of Saul, was permanently disabled. From a human perspective, he seemed the least likely person on earth for David to befriend and show kindness to.
He was the sole surviving male heir of Saul, the one person left on earth who might have tried to claim that the throne belonged to him by birthright. He was living in exile when David found him—forgotten, fearful and essentially an outcast. He did not seek David's favor, nor did David have any legal obligation to him. Yet David showed him extreme kindness in a way that epitomizes godly compassion, and perfectly reflects what Christian ministry to hurting people should look like.
David and Saul could hardly have been more different. Saul—towering, stately, physically robust—had been the people's choice to be Israel's king, but he had failed miserably and sinned egregiously, so God rejected him. God's choice to be his successor (and to establish the kingly line that would eventually produce Israel's Messiah) was David—small in stature, still in his youth, shepherding his father's flocks when Samuel anointed him as king. Of course, Saul knew full well that God had rejected him and blessed David. Saul's murderous contempt for David was well known, and his rage and paranoia eventually drove him mad.
He pursued David relentlessly with the aim of killing him. Saul thus squandered his power and his kingly authority, opposing God. This continued for years, until Saul's armies were defeated by the Philistines. Saul himself was mortally wounded during that battle, and he finally fell on his own sword. "Thus Saul died with his three sons, and all those of his house died together" (1 Chronicles 10:6).
One of Saul's sons who died that day was Jonathan. Even though Saul had made himself David's sworn enemy, Jonathan had become David's closest earthly friend. In the wake of that disastrous battle with the Philistines, David mourned greatly not only for Jonathan but also for Saul (2 Samuel 1:17).
That David would have any compassion at all toward Saul or his family was extraordinary. Saul made David's life enormously difficult for years, forcing him into nomadic exile, causing David to live in caves and on the run.
Moreover, it was common for Middle-Eastern kings in circumstances like David's to kill off all surviving family members from the previous dynasty in order to prevent any threat of insurrection and eliminate possible claimants to the throne. It is significant that David's behavior toward the house of Saul was the exact opposite. He had made a covenant with Jonathan years before, promising that he would extend his lovingkindness to Jonathan's offspring and preserve them as Jonathan had done for David (1 Samuel 20:15-17).
And that is why in 2 Samuel 9, we read an extended account of David's kindness to the one remaining descendant of Jonathan, a disabled son named Mephibosheth. That part of the story begins when David, conscious of the covenant he had made with his friend, asked, "Is there yet anyone left of the house of Saul, that I may show him kindness for Jonathan's sake?" (2 Samuel 9:1).
One of Saul's former slaves named Ziba identified Mephibosheth, saying, "There is still a son of Jonathan who is crippled in both feet" (2 Samuel 9:3). Either way, the fall resulted in a permanent disability to Mephibosheth, who for the rest of his life would be unable to walk normally or earn a living for himself.
It was not until David had finally defeated the Philistines and ascended to the throne without rivals that he inquired about Saul's offspring. By then, evidently, some years had elapsed, and Mephibosheth was living "in the house of Machir the son of Ammiel in Lo-debar" (2 Samuel 9:4). Lo-debar was east of the Jordan, and it is very likely that Mephibosheth had gone into hiding there precisely because he had been afraid David would come after him.   
Instead, David requested that Mephibosheth be brought to him. "Mephibosheth, the son of Jonathan the son of Saul, came to David and fell on his face and prostrated himself. And David said, 'Mephibosheth.' And he said, 'Here is your servant'" (2 Samuel 9:6).
David immediately made it clear to Mephibosheth that his intentions were entirely merciful, borne out of his love for the young man's father. "Do not fear, for I will surely show kindness to you for the sake of your father Jonathan, and will restore to you all the land of your grandfather Saul; and you shall eat at my table regularly" (2 Samuel 9:7).
Mephibosheth's response reflects the shame he bore and the unusual humility that is often characteristic of people who have lived as social outcasts for many years: "What is your servant, that you should regard a dead dog like me?" (2 Samuel 9:8). "Dead dog" was, of course, a term of extreme contempt. To call someone a "dog" in that culture was bad enough. To call someone a "dead dog" implied double uncleanness. This was just about the worst imaginable term of derision, and Mephibosheth applied it to himself. He had no sense of significance whatsoever—most likely because of his crippling injury and because he had been an outcast, in isolation for years. He was unaccustomed to favorable treatment from anyone, much less the powerful and popular king whom Mephibosheth's own grandfather had relentlessly persecuted.
By right, David could have taken over everything that belonged to Saul. He was the new king. Instead, he gave Saul's possessions back to Mephibosheth and put Saul's one-time servant Ziba, his sons and his servants in Mephibosheth's employ: "You and your sons and your servants shall cultivate the land for him, and you shall bring in the produce so that your master's grandson may have food" (2 Samuel 9:10). That verse also records that Ziba had 15 sons and 20 servants, so 35 men immediately went to work to cultivate Saul's land! It established a lucrative business for Mephibosheth.
We have an amazing postscript at the end of the chapter, reiterating what verse three already told us: "Now he was lame in both feet" (2 Samuel 9:13). The reiteration of that fact conveys a tone of amazement. Indeed, from a human perspective it is remarkable that the grandson of David's enemy, already living the life of a fugitive and an outcast, utterly lacking in any form of self-respect—someone who had nothing whatsoever to offer David in the way of service or honor—would be not only accepted by the king himself, but also elevated to a position of highest privilege in the royal household, alongside David's own sons.
David's mercy, love and kindness toward Mephibosheth are exemplary. It is an example all Christians should follow in our ministry to our culture's outcasts—including disabled, disadvantaged and otherwise disempowered people who are our neighbors.
Notice carefully that David's mercy to Mephibosheth was not a token expression. He did not merely write an encouraging letter or make a one-time gift of alms. He gave his heart to Mephibosheth. He shared the palace with him; he gave up his own resources for him; he gave his life to him. He brought him into the palace, set him up in business and made him one of his own.
Why did he do this? It was not only because of his love for Jonathan. The language of verse three is important: "Is there not anyone of the house of Saul to whom I may show the kindness of God?" He consciously wanted to exemplify God's kindness.
That is precisely what he did. David's actions are the very picture of God's grace to sinners. Just as David showed kindness to Mephibosheth for the sake of Jonathan, God is generous to believers for Christ's sake. In other words, all the benevolence and tender mercies God bestows on us are given to us not because we deserve His favor. We don't deserve it. But because of His love and because we belong to Christ by faith, we are the recipients of divine blessings that rightfully belong to Him. That's what grace is all about, and as we'll see next time, it's what was ultimately exemplified in the life of Christ.
Copyright 2011, Grace to You. All rights reserved. Used by permission.
This article originally appeared here at Grace to You.