In that moment, all I wanted to do was quit.
All eyes were on me, a woman in ministry, during the yearly evaluation at my church. I listened, helplessly, as my peers and employers critiqued the job I was doing.
You're good at that, but you need to work on this.
Don't do that again.  
We don't like it when you do this. Can you do more of this instead?
The list of comments grew and grew. I know there had to be some positive ones, but the negatives echoed in my head.
What I was really hearing was: You're not good enough. We don't like you. You stink.
I remember coming home and collapsing into my husband's arms, sobbing, and telling him that I didn't want to go back. Being a woman in ministry was not supposed to be like this. If I had been truly called by God, I shouldn't have to endure hurtful words. I am trying my best so why is it not good enough for some people?
If this is what ministry is going to be like, then I wanted out.
Seventeen years have passed since I first began working in the ministry. Though my self-doubt and insecurities have evolved as a fruit of my experience, it would be dishonest to pretend I have stopped feeling the same fear and dread of criticism. At times, fear in particular has consumed my thoughts. It has even prevented me from stepping out in faith when God has called me to act.
I felt like Paul did in 2 Corinthians 11:28 when he said: "And besides other things, I am under daily pressure because of my anxiety for all the churches."
When I first read this passage, I screamed out, "Yes, Lord!" This is how I feel.
I want the job I do for the Lord to be perfect. I want everyone to like me. I want everyone to think I do a good job. I want it to be easy without any roadblocks or hurdles that I have to jump over. I want to have lots of friends and be happy all the time. I want ministry life to be fun and carefree, not laced with the fears that have crippled me over the past 17 years.
Life of being a woman in ministry hasn't been and won't be perfect for me or for you. It won't be free from hardships. God doesn't call us to serve Him because it's easy. In fact, He never promises that it will be. He just asks us to come and follow Him.
In 2 Corinthians 12, Paul writes to the church at Corinth about speaking the truth about Jesus and being grateful for the trials he has had to endure. He even says, "So I will boast all the more gladly of my weaknesses, so that the power of Christ may dwell in me" (verse 9).
Who wants to boast about their weaknesses? Who even likes to admit they are weak? I know I don't. The fears I have experienced have weakened me. They have made me feel that I can't do anything.
But, here is what I have learned over the past few years: I am not alone in my fears. I have encountered others who have the same fears of serving the Lord.
I once led a workshop called "Being a Woman in the Ministry." This session focused on how women seem to build a wall of fear that prevents them from serving God faithfully. In this session, we built a wall of our fears using paper bricks. The women wrote down their fears on the bricks and we hung them on the wall. I was amazed to see this huge wall of fears. It was then that I realized I am not alone in this fearing God thing. God has brought me out of the darkness of fear into the light of His provision and calling.
You don't have to be afraid of doing what God has called you to do because Jesus is right there with you. Cry out to God and ask Him to rise up against the enemy who has held you hostage to fear and hasn't allowed you to break free. Take the hand of Jesus and let Him lead you out into the light.
A Bible verse that has spoken greatly to me as I have faced my fears of serving God comes from Jeremiah 17:7-8 (NIV):
"But blessed is the one who trusts in the Lord, whose confidence is in him. They will be like a tree planted by the water that sends out its roots by the stream. It does not fear when heat comes; its leaves are always green. It has no worries in a year of drought and never fails to bear fruit."
Be that tree! Plant your roots deeply in God so when you serve Him, the fear that the devil throws at you will not bring you down. Stand strong on God's promises and be victorious over fear. Be free so you can bear fruit for the Lord and be a woman that boldly steps out and serves God. And that means letting go of the fear that keeps you hidden in the dark.
Excerpted from: Rise Up: Choosing Faith over Fear in Christian Ministry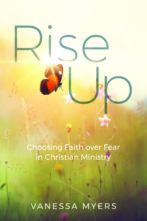 Don't miss Vanessa Myers' new book Rise Up: Choosing Faith Over Fear in Christian Ministry.