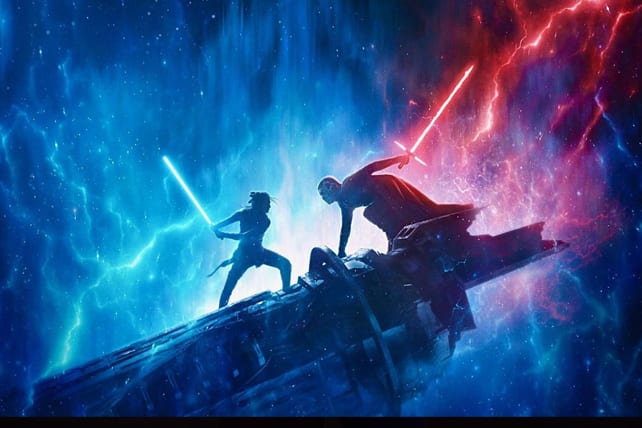 Tonight, I attended 9th and final (we think) episode of the Star Wars saga, Star Wars: The Rise Of Skywalker.  I have some strong opinions about the film and found 12 leadership quotes and lessons from Star Wars movie #9.
To give you a quick recap of the film, Emperor Palpatine, played by Ian McDiarmid, is not dead after all.  In fact, he has been manipulating everything behind the scenes.  The movie is about our heroine, Rey played by Daisy Ridley, and her love interest/arch nemesis Kylo Ren, played by Adam Driver, race to planet Exegol.  There they will either unite with Palpatine for a true Evil Empire or defeat him once and for all.
The Rise Of Skywalker has what you would expect – incredible action and CGI sequences.  Stunning in fact.  Here's my problem and it's a BIG problem – there is a scene when the conquering warriors come home that is INCREDIBLY offensive.  There were references to this same issue in Avengers: Endgame and they took the next step in this movie.  The desensitization process completely takes away from the entire movie and there were audible gasps in the theater I was in.
I'm hoping for much better for Black Widow in May but am preparing for the worst.
The following are 12 Leadership Quotes And Lessons From Star Wars: The Rise Of Skywalker:
Even The Best Continually Train To Get Better – The first time we see Rey in this film is her going through an extensive Jedi training process.
Smart Leaders Know Where They Add The Most Value To Team And Do What Only They Can Do – Poe told Rey, "You're the best fighter we have.  We need you out there."
Start With Why – A First Order dissident said, "I don't care if you win.  I need Kylo Ren to lose."
A Basic Human Need Is For Someone To Truly Know Us. – Rey, "People keep telling me they know me. No one does."  To which Kylo Ren added, "But I do."
When It Is All Said And Done, What We Will Remember Are Not The Long Hours, The Profit Made, Or What Was Accomplished.  We Will Remember The People And Our Relationships With Them. –  Poe asked C-3PO, "What are you doing there, 3PO?"  To which he replied,"Taking one last look, sir. At my friends."
There Is No Success Without Succession – Luke Skywalker said, "We've passed on all we know. A thousand generations live in you now. But this is your fight."
Skywalker said, "Confronting fear is the destiny of a Jedi."  It is also the same with every leader.
Successful Leaders Focus On The Fundamentals – Skywalker said, "The force will be with you."  To which Lela replied, "Always."
Teamwork Makes The Dreamwork – A returning Lando Calrissian, played by Billy Dee Williams, counseled, "We had each other.  That's how we win."
Successful Leaders Respect The Process And Call Others To Do It As Well. – "A Jedi weapon deserves more respect."
You Can't Speak Or Preach Your Way Through Defining Moments.  You Must Lead Your People Through Them. – Poe said, "Good people will fight if we lead them."
When You Eliminate Or Neutralize The Leader, The Team Fails – Once the Resistancce learned how to take out the First Order's command ship, the rest of the fleet were unable to move forward.  The same is true for your church, business, non-profit, or athletic organization.
Just disappointing.
This article about lessons from Star Wars originally appeared here.