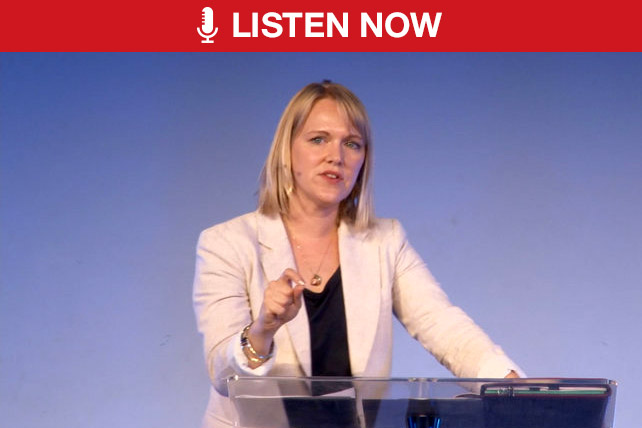 Hannah Anderson spends her days working beside her husband in rural ministry, caring for their three children, and scratching out odd moments to write. In those in-between moments, she contributes to a variety of Christian publications and is the author of All That Is Good, among other books. Hannah and her family live in the Blue Ridge Mountains of Virginia.
Key Questions for Hannah Anderson
– What observations have you made about women's ministry in the U.S.?
– Talk to us about the ways we try to cope with all the information coming at us on a daily basis. How does this information overload affect our ability to discern between good and bad?
– How do most of us misunderstand discernment?
Key Quotes from Hannah Anderson
"A lot of [women's ministry] started with traditional publishing. So that women who maybe couldn't find a vocational route within the church could get picked up by publishers and could write books or Bible studies or do video Bible studies, and that was a way that they could facilitate and fulfill the calling God had placed on their life."
"If ministry to women is happening primarily through publishing or social media or online presence, that means that a lot of times it's not necessarily connected to a local church…which means there's also not quite the same partnership, and some people would see that negatively, like there's not accountability or guidance. But it also means that a lot of these women are out on their own and they're left to make decisions about their ministry based on the whims of the marketplace and which way success takes them."
"I think one thing women must have a strong sense of is if God opens up spaces online, or in the digital age, that doesn't relieve us of our relationships in the local church. It doesn't relieve us of serving there, it doesn't relieve us of accountability there."
"It's not that this is unique to women. Men have to have this same type of commitment to local, in-real-life community. What makes it challenging, is when a woman is called to ministry and she looks around at her local infrastructure of her church she may or may not have spaces that she can move into."
"If my book sales are dependent on convincing people to read it and to give me their hard-earned money for my writing, that's naturally going to present some temptation to just give them what they want, not what they need."
"Discipleship is about confronting and challenging us. It's about putting the mirror of God's Word in front of our face and saying 'Yeah, maybe this area of your life needs to change.'"
"It's not that we're uniquely gullible or uniquely naive. It's that we have access to more ideas, more content, more leaders, more voices, more information than anyone in history has ever had access to. And that means that we're going to have to have wisdom to know what to listen to, which direction to go, what to take in, what to leave behind, how to discern what is really influencing us when we post, how to just clarify our own motives and how to be led by the Holy Spirit and not just be swept along by this torrent of information."
"What discernment teaches us is not to go by labels, but to go by the goodness and character of God. When we're practicing discernment, we're developing the skill to know what is good and what is not good. To judge between those two things."
"What we have to understand is that discernment is not a weapon we use against each other."
"As a pastor, one of the last things you want to hear is a member come up to you and say 'I believe I have the gift of discernment' because so often that means 'and now I'm going to tell you where you're wrong.'"
"When you look at discernment in the Scripture, yes it is about identifying where something is going off from goodness, but it's primarily about finding what is good and excellent."
"The goal [of discernment] is to see goodness."
"Am I using my insight or my clarity as a means of winning an argument or am I operating and discerning and judging as a means of healing and helping and bringing unity and peace to the body?"
"If we don't learn to see good outside of our own tribe, we are not discerning people–no matter how much bad we think we can see."
Mentioned in the Show:
All That Is Good
Philippians 4:8
SometimesALight.com
Twitter
Instagram
Facebook
Other Ways to Listen to this Podcast:
► Listen on Apple: https://itunes.apple.com/us/podcast/the-churchleaders-podcast/id988990685?mt=2
► Listen on Stitcher: https://www.stitcher.com/podcast/churchleaders/the-churchleaders-podcast
► Listen on GooglePlay: https://www.stitcher.com/podcast/churchleaders/the-churchleaders-podcast
► Listen on Spotify: https://open.spotify.com/show/3NOo1CepdPQog17rmL7DuT