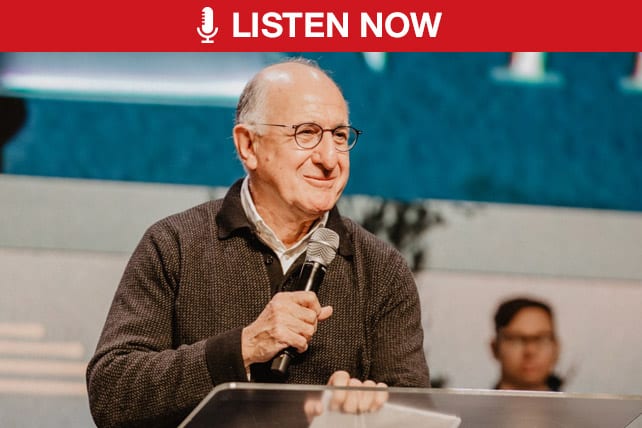 Ken Costa is an internationally renowned banker, having worked as Chairman of UBS Investment Bank for EMEA and Chairman of Lazard International. He is the Chairman of Alpha International, Emeritus Professor of Commerce in Gresham College London and Dean of the Leadership College London. Ken is also the author of Strange Kingdom. He and his wife, Dr. Fiona Costa, live in London. They have two sons and two daughters.
Key Questions for Ken Costa
– You talk about the cross as being a way to restore friendship between God and humanity. Explain that to us.
– Why do people struggle so much with the concept of true forgiveness?
Key Quotes from Ken Costa
"At the cross was the moment when all of history actually pivots. Because up to that point, it was a whole sense of mankind searching for God and on the moment of the cross, the historical significance was that was the moment when God himself reached down to us in our humanity, suffering death as we all will suffer, and coming to life again and rising again."
"The power of the cross is that [Jesus] suffered and died so that we might not have death, which is the ultimate pain of sin, hit us in the same force as it might have done without his intervention."
"The cross is, in fact, trinitarian…[We tend to think of the cross] as if there were just two parties involved. But in fact, the spirit of God was there because the love of God was being poured out on that cross and in the moment of deepest agony, deepest travail, he acted as the reminder that there was something to come, that there was a future."
"Just as the spirit of God was with Christ on the cross, so he is with us in the depths of our agonies, reminding us that there is something ahead of us."
"The strangest coinage of the Kingdom is forgiveness. It is so extraordinary that it is unique to our faith."
"There was a great exchange that took place on the cross in which the purposelessness of our lives was taken by him and a new purpose given to us."
"The spirit of God is the delivery mechanism of the Trinity. He delivers to us a way of life and in doing so…makes us more human. It's in the flourishing of our humanity that we are able to learn how to live joyful lives even in the midst of stress and pain and disappointment."
"Pastors, you are doing a remarkable work, particularly at this time of Easter. The remarkable work that you're doing is one where you're showing confidence in the foolishness of a cross in the sure knowledge from your own life that it is authentic and real and that the power of the cross of Jesus transforms day-to-day living."
Mentioned in the Show:
Strange Kingdom: Meditations on the Cross to Transform Your Daily Life
GodAtWork.org.uk
Ken Costa on ChurchLeaders:
Ken Costa: Helping People Discover God's Purpose For Their Life

Other Ways to Listen to this Podcast:
► Listen on Apple: https://itunes.apple.com/us/podcast/the-churchleaders-podcast/id988990685?mt=2
► Listen on Stitcher: https://www.stitcher.com/podcast/churchleaders/the-churchleaders-podcast
► Listen on GooglePlay: https://www.stitcher.com/podcast/churchleaders/the-churchleaders-podcast
► Listen on Spotify: https://open.spotify.com/show/3NOo1CepdPQog17rmL7DuT