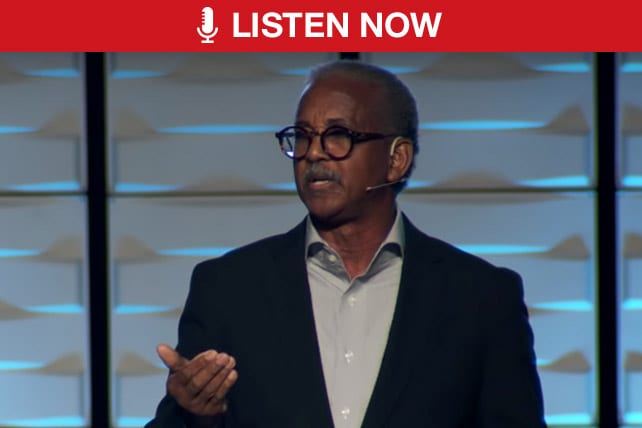 Reverend Anthony Thompson is the pastor of Holy Trinity Reformed Episcopal Church of Charleston. The Reverend Thompson was married to the late Myra Thompson. They have three children and six grandchildren.
Key Questions for Anthony Thompson
– How did you respond to those who suggested your forgiveness of Dylann Roof was hasty?
– How did the community of Charleston react to the Emanuel AME shooting compared to other communities that have endured similar violence?
– What can ministers do to help their congregations strive for racial reconciliation?
Key Quotes from Anthony Thompson
"He may have murdered my wife, but I'm just as much a sinner as he is. Christ died for his sins; if Christ died for my sins, he died for his, too."
"That peace that passes understanding is very, very real. I've preached it several times and I wrote about forgiveness several times in my sermons, but never once did I experience that peace until [I forgave Dylann Roof in court]."
"Everything left my body, the anger, the hate, the rage, the loss I had for my wife–he just took it all, and I felt it leaving my body. I was literally shaking and after that, I experienced that peace that passes all understanding in Christ Jesus. And believe me, I have that peace right now today. God is real; God is awesome; He's magnificent. He can do those things in your life like that if you'll just be obedient to what he says."
"Forgiveness is the ultimate act of love."
"You have to look beyond feelings. If your feelings get involved, you're not going to forgive. You're going to hate; you're going to have a grudge and malice in your heart."
"What I did was an act of obedience. God made that happen for me."
"When you act with violence, you're going to get violence. The Bible says you reap what you sow."
"That forgiveness brought forgiveness. That forgiveness brought peace. That forgiveness is bringing reconciliation. Whereas the violence that happened in other cities brought violence, brought hate, and it just multiplied and escalated."
"Pastors need to, first of all, get with other pastors so they can talk about what they need to carry to their congregation."
"We need to start that conversation as people and not as color. It has to begin in the church."
"I would like all pastors, regardless of what race or culture, to get their congregation to start in their families, wherever you live, go knock on your neighbor's door."
Mentioned in the Show:
Other Ways to Listen to this Podcast:
► Listen on Apple: https://itunes.apple.com/us/podcast/the-churchleaders-podcast/id988990685?mt=2
► Listen on Stitcher: https://www.stitcher.com/podcast/churchleaders/the-churchleaders-podcast
► Listen on GooglePlay: https://www.stitcher.com/podcast/churchleaders/the-churchleaders-podcast
► Listen on Spotify: https://open.spotify.com/show/3NOo1CepdPQog17rmL7DuT