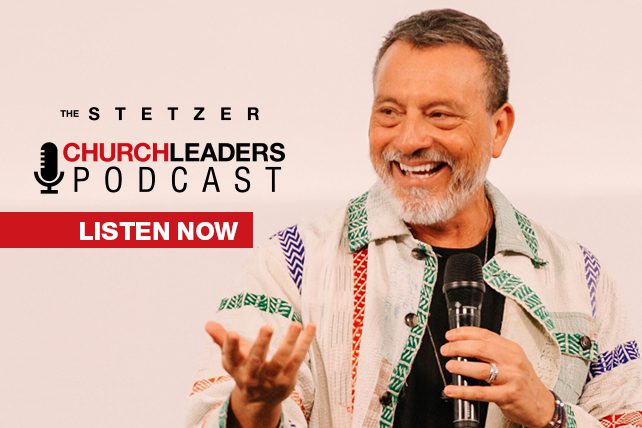 Erwin McManus is the founder of Mosaic, a church movement based in the heart of Hollywood. He studied philosophy at Elon University, has a bachelor of arts in psychology from the University of North Carolina at Chapel Hill, a master of divinity from Southwestern Theological Seminary, and a doctorate of humane letters from Southeastern University. Erwin is the acclaimed author of "The Way of the Warrior," "The Last Arrow," and other leading books on spirituality and creativity. His latest book is "The Genius of Jesus: The Man Who Changed Everything." Erwin lives in Los Angeles with his wife, Kim.
Other Ways to Listen to This Podcast With Erwin McManus
► Listen on Apple
► Listen on Spotify
► Listen on Stitcher
► Listen on YouTube
Key Questions for Erwin McManus
-Most people don't use the word "genius" to describe Jesus. Why did you want to focus on that quality in particular?
-What makes somebody a genius, and how does Jesus fit into our categories of what a genius is?
-How would you answer someone who says that the idea of "genius" is not in the Bible and therefore focusing on "genius" is unimportant?
-What is it about embracing the genius of Jesus that leads you to see the world, yourself, and others differently?
Key Quotes From Erwin McManus
"When I first posted a thought on the genius of Jesus, one of the first responses I got was, 'Jesus was not a genius. He was God.' And I thought, what an interesting response, because if I had said Jesus was compassionate, no one would respond, 'No, Jesus was not compassionate. He was God!'"
"I actually felt that talking about the genius of Jesus is a really important conversation about the humanity of Jesus."
"I've been studying human genius for probably 40 years. The phenomenon of genius has always been really intriguing to me, and it's been a part of my own life narrative since I was around 11 or 12 years old. And I've never seen a single list that has Jesus on the list of geniuses. So then my mind started following this up going, 'Wait a minute. If I've been changed by the idea of Jesus, this is the most brilliant idea that has ever formed in human history.'"
"What a lot of people don't understand is that pastoring was never my occupation. It was always my passion. And so people always say to me, 'Why would a pastor be an artist or do art? And I go, 'You're asking the wrong question. The question is, why would an artist choose to become a pastor?'"
RELATED: Sho Baraka: Why You Will Be a Better Church Leader If You Help Your Artists