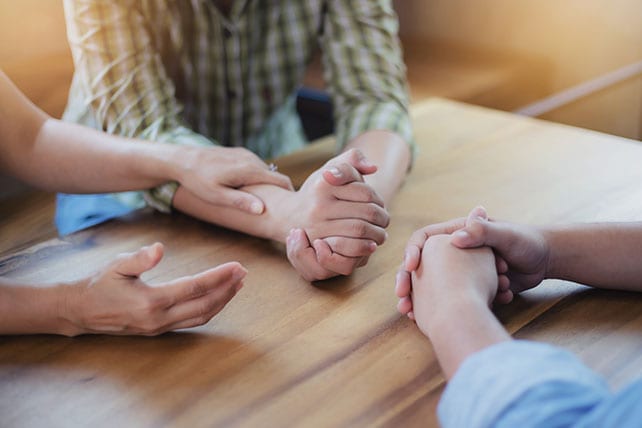 I'm passionate about the importance of small groups complementing (not duplicating) the experience of the corporate gatherings on the weekends. I've seen seasoned lay leaders lead a small group meeting for the first time and innocently turn it into a mini-service or Sunday school class. This happens as a result of their previous church history, but it is not the essence of what a small group should be.
I believe a small group is six to 15 people who are growing in relationship, discipleship and leadership together. There is a subtle dynamic of teaching that takes place in the group sessions, but it is very limited compared to the Sunday school model of ministry.
Small group meeting: a balanced small group meeting will produce a different output than a class (for more on this see 7 Reasons to Boycott Sunday School).
A valid question to what's already been presented would be, "Where in the Bible is a Small Group Meeting?" My initial response to that would be that small groups are all throughout the Bible as ancient communities were much more intertwined than 21st-century America. People were frequently invited into each other's homes and the pace of life was much slower, thus more relational. The fact that Jesus was a Jewish Rabbi suggests that He used all of the best practices in a small group leader's tool-kit.
To answer the question more head-on would cause me to turn to Acts 2:42-47:
And they continued steadfastly in the apostles' doctrine and fellowship, in the breaking of bread and in prayers… So continuing daily with one accord in the temple, and breaking bread from house to house, they ate their food with gladness and simplicity of heart, praising God and having favor with all the people. And the Lord added to the church daily those who were being saved.
Noticed they met in the temple for corporate worship and teaching but they also met from house to house in smaller groups for community. There were four attributes given which describe what they were devoted to on a regular basis:
Apostles' Doctrine (the Word of God)
Fellowship
Prayer (includes Worship)
Breaking Bread (Food)
To answer the question given in the title of this article, I want to key-in on the second attribute: fellowship. The Greek word for fellowship is the word koinonia. The word means "community."
3 Different Aspects of Small Group Meeting Koinonia
1. Koinonia means Sharing and Participation.
This tells me that their community was not merely a classroom setting. There was interaction between believers. It wasn't a monologue; it was a dialogue involving every person.