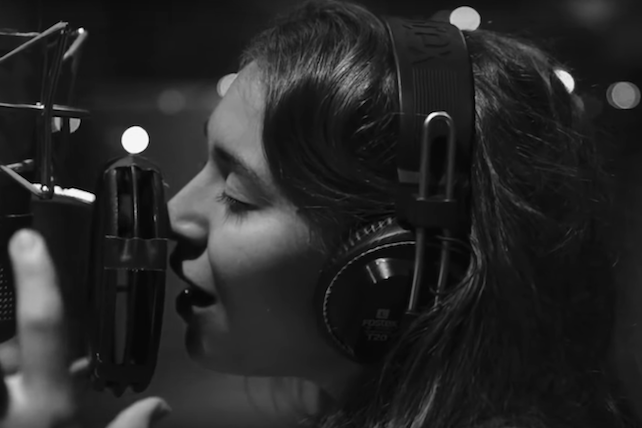 You might not enjoy hearing Christmas music, say, every time you go out shopping. But if you're like many of us, you probably still have some favorite Christmas albums you'll listen to while decorating your house. Maybe those even include some of our recommendations from 2017! Or perhaps you enjoy the opportunity to worship God with songs you don't get to sing during any other time of the year.
Even if you have a set of favorite Christmas tunes, it's fun to find something fresh now and then.
With that in mind, we've compiled a short list of Christmas albums released this year that we think you might enjoy.
7 New Christian Christmas Music Albums for 2018
Daigle has been in the news quite a bit lately and has re-released her 2016 Christmas album in a deluxe version. It contains a mix of traditional songs done in a soulful, jazzy style.
Featuring:
Jingle Bells
Silent Night
O Holy Night
Have Yourself a Merry Little Christmas
Listen to Lauren perform "Away in a Manger"
Another deluxe version re-release comes from Hillsong Worship. The album includes two new live recordings, as well as instrumental versions of the songs.
Featuring:
Joy to the World
Hark
Prince of Heaven
When I Think Upon Christmas
Speaking of which, Darlene Zschech, whom you might recognize as formerly being with Hillsong, has released a new Christmas album with Hope Unlimited Church.
Featuring:
The Mystery (feat. Luke Taylor)
Do You Hear What I Hear (feat. Katie Smith)
Away in a Manger (He Is Here) (feat. Coco Gleeson & Piper Rorke)
Emmanuel (Glory to God) (feat. Laura Robertson)
Away in a Manger (He Is Here) (Official Audio)
Another artist we recommend is husband and wife duo Caleb and Kelsey. Their Christmas album is distinguished by its beautiful piano music and the couple's harmonies.
Featuring
Christmas Hallelujah
Snow Medley
What Child Is This? / O Come Emmanuel
This Christmas / Last Christmas
What Child Is This? / O Come Emmanuel
Grammy nominee and Dove Award winner Matt Maher anticipates the coming of Christ with a creative album focused on Advent.
Featuring
Gabriel's Message
He Shall Reign Forevermore
The First Noel
When I Think of Christmas
Gabriel's Message (Official Audio)
Are you looking for hip hop music to jam to while you're making Christmas cookies? If so, this is the album for you!
Featuring
O' Come (feat. Tedashii, CASS, nobigdyl.)
Joy (feat. Trip Lee, Lecrae, Abe Parker)
Noel (feat. Trip Lee, Dave James)
We Three Kings (feat. Paul Russell, Lecrae, Abe Parker)
"Joy" (feat. Trip Lee, Lecrae, Abe Parker)
David Phelps used to sing with the Gaithers and is now a solo artist. Here are some of the tracks we enjoyed most from his new Christmas album.
Featuring
Go Tell It on the Mountain
Fall on Your Knees (feat. Charlotte Ritchie)
Catching Santa
In the Bleak Midwinter
Watch David perform "Go Tell It on the Mountain" live!