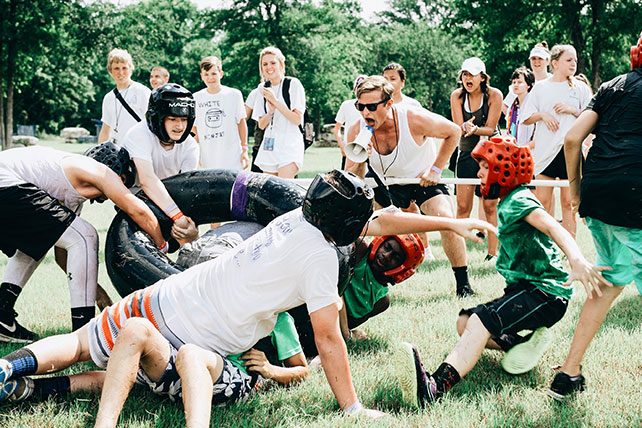 Outdoor games for youth are a blast, especially during the summer. You've probably noticed that youth ministry games seem more adventurous when played outdoors. Plus, it's easier to get messy or wet outside.
When weather permits, move your gathering outside. That way, kids get fresh air and can stretch their muscles and creativity. You'll promote group bonding, spark laughter, and create good memories. Plus, you can convey important faith lessons in the process.
To help you begin, we've assembled this can't-miss list of outdoor games for youth. Pick and choose what works best for your group. (Also see what meshes with your mess-tolerance.) Then get up and get out—outside, that is!
13 Outdoor Games for Youth
This no-prep, no-prop outdoor icebreaker is ideal for large groups. As kids mingle around, call out "Mingle, Mingle" plus a number between 2 and 10. Then groups of that number must form. Through a process of elimination, you'll end up with just two people as winners.
Put a fun twist on the teen-favorite Twister. First, create a game "board" (rows of colored circles) on grass with washable spray paint. Then have a Twister tournament and see who can get tied up in the craziest knots. This game also is a hit at carnivals or festivals, if your group organizes those events.
Cool everyone off—literally!—on a hot day with this wacky game. First, freeze a stack of wet youth ministry T-shirts beforehand. (Separate them with layers of wax paper.) Take the bundle of "brrr" outside. Then have kids race to see who can unfold and put on a shivery shirt first.
Jump on the oversized-gameboard trend with this matching game. First, create pairs of squares that contain matching images or Scripture verses on one side. Mix up the squares and place them on the ground outside, blank side up. Next, have kids or pairs take turns "matching" wits with one another.
This quick, easy outdoor game will help kids release lots of energy in a short time. Begin by having group members each put one hand on their head. Next, they try to get one another "out" by tagging with their elbows. Mark off the playing area so everyone stays within certain boundaries.
Play this active game at a retreat or camp where you're discussing temptation or peer pressure. Players hold hands and walk in a circle around an object. They try to push one another toward the source of temptation—and pull themselves away from it.
Light up the night with this active game. Give each player a small flashlight or pen light. Then have them play Tag in the dark. The game makes a great object lesson about shining our light for Jesus.