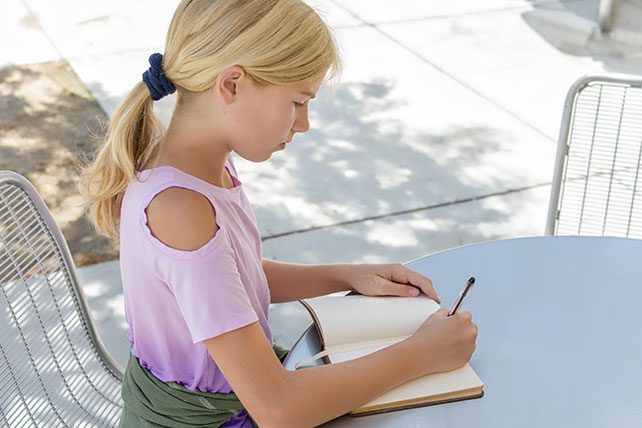 Although the age range of preteens may be rather narrow, the avenues for preteen ministry are vast and wide. Most kids this age are open to trying new activities, learning new skills, and meeting new people. For a meaningful preteen and tween activity that helps kids explore and grow their faith, consider breaking out paper, pens and markers.
Let's look at why journaling is so effective for preteen ministry.
1. Journaling provides a creative outlet.
Because older-elementary kids experience rapid changes and growth, a lot is going on inside their minds, bodies and hearts. Provide opportunities for preteens to process all these emotions by setting aside some quiet time during your gatherings and group meetings. Tweens don't need to be top-notch writers to benefit from journaling. Drawing, coloring and doodling also are great ways to harness creativity and get kids thinking about their beliefs, challenges and goals. Journaling Bible art, for example, is sure to be a hit with artists of all abilities.
2. When preteens journal, they can explore their faith.
The heart of preteen ministry is equipping young people to develop and nurture their relationship with Jesus. Journaling can help with that when you encourage tweens to write down their thoughts, concerns and prayer requests (and God's answers). The process also helps provide clarity about who God is, what God's plan is for the student's life, and how kids can live out and share their faith.
3. Journaling helps build spiritual disciplines.
By using Christian journal prompts, preteens can develop lifelong habits of devotional time, Bible study and regular prayer. Journaling can include gratitude lists, deep-dives into individual Scripture passages, and acts of surrender and forgiveness. In addition, kids can openly reflect on various spiritual challenges and their faith goals.
Start by trying these journaling ideas in your own preteen ministry.
Use Bible-related journaling prompts that tie into one Bible book or chapter. Break down entries by a verse or two at a time, including thought-starter questions after each chunk of Scripture.
Ask preteens to choose a life verse, or even a verse of the week or month. Then have draw, doodle and journal about it for a few minutes each day at home.
Have kids jot down their talents and gifts. Also tell them to include ways they can use them to serve God and other people.
Encourage tweens to record their blessings, big and small. Plus, remind them to regularly take time to express thanks to God in their journals.
Have the members of your preteen ministry write letters, whether or not they send them. These letter can be to God, to loved ones, to people they need to forgive, and so on.
Kids can use their journals as private spaces to reflect on their failings and temptations. Then they can ask for God's help in specific areas.
Journals are an ideal spot for recording sermon notes, Bible study insights, and topics that warrant additional digging.
Preteens can jot down inspirational quotes, blessings and lyrics they hear throughout their day-to-day life.
Kids can write original poetry, songs and stories about their faith and related topics.
At the end of every preteen ministry meeting, plan a five-minute "free writing" time. During that wrap-up, encourage kids to debrief what they've learned by writing and drawing.
How have you used journals or similar activities in your preteen ministry? We'd love to hear your ideas in the comments below.