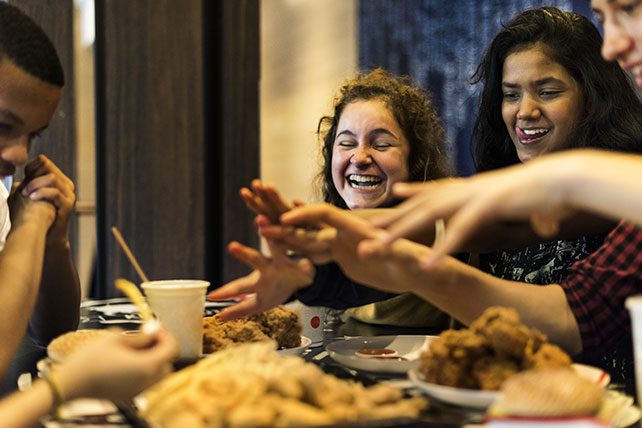 When it comes to meals for large groups, pizza is the old standby. But that doesn't mean youth leaders need to "stand by" and dial for delivery every week. School cafeterias serve pizza frequently, and many busy families have a weekly pizza night too. So teens are likely as bored of pizza as you are. Plus, pizza isn't exactly the healthiest option around.
What other meals for large groups can you assemble with minimal work and cost? Check out the "menu" below. Then be sure to share your ideas in the comments. Happy eating!
30 Pizza-Less Meals for Large Groups
Sub sandwiches
Crockpot sloppy joes
Burrito or taco bar
Nachos
Hot dogs
Pigs in blankets
Spaghetti
Mac and cheese
Chicken wings
Chicken nuggets
Chili (or any soup)
Baked potato bar
Salad bar
Ham and cheese sliders
Pita sandwiches
Make-your-own fruit kabobs
Deli tray
Cheesy breadsticks
Bring-an-appetizer to share night
Stir-fry
Sheet pan fajitas
Chili dogs
Fondue
Tortilla roll-ups
Party meatballs (on toothpicks)
Corn on the cob (cooked in a cooler!)
Breakfast sandwiches
Hashbrown casserole
Waffle bar (especially great after a lock-in)
Food truck (great for a special event)
And don't forget dessert! Ideas for youth group treats include an ice cream sundae bar, cookie and ice cream sandwiches, strawberry shortcake, big-batch cookies, s'mores, and more.