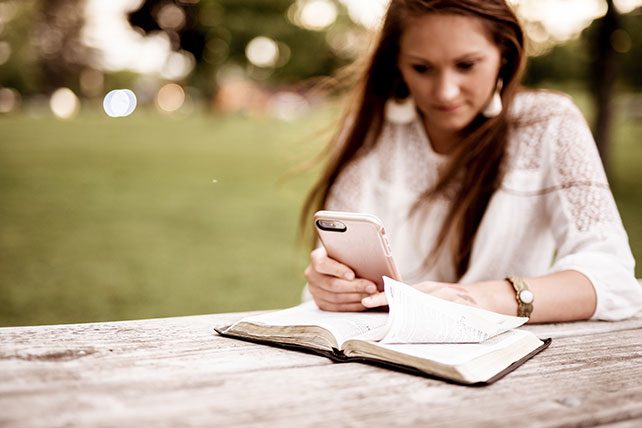 As you encourage teenagers to dive into their Bibles, consider leveraging some new approaches. For this high-tech generation, Bible apps for teens can be a helpful tool.
Youth workers need to reach kids where they're at. And you need to provide tools they're comfortable using. Otherwise, those tools won't…get any use. That's where Bible apps for teens come in handy.
Bible Apps for Teens: 5 Options to Try
Try these five digital avenues to help tether teens to the ultimate text, God's Word.
5 High-Tech Ways to Connect Teens to the Bible
1. YouVersion Bible app
This free app offers hundreds of Bible-reading plans, including ones specifically for teenagers. Other topics range from leadership to dating. To search plans inside the YouVersion app, click "Plan" and "Discover." Then just start scrolling. To search plans on your computer, click here: https://www.bible.com/reading-plans
2. Memory verse apps
Two stand out, and both are available for iPhone, Android, and online use. With Fighter Verses (http://fighterverses.com), you get everything the app has to offer for just $2.99. Scripture Typer (https://scripturetyper.com) offers a free version. But for $9.99 you can download the full-featured app. This video explains the process: https://www.youtube.com/watch?v=MTPPKa7lY38
3. Insta-devos
It's easy to post Bible verses, devotional thoughts, and photos on Instagram. One great resource for this is PocketFuel (https://www.instagram.com/pocketfuel/). Encourage students to follow that. Or create your own material with apps such as Word Swag (https://itunes.apple.com/us/app/word-swag-cool-fonts-typography/id645746786?mt=8) or Canva (https://itunes.apple.com/us/app/canva-graphic-design-photo/id897446215?mt=8).