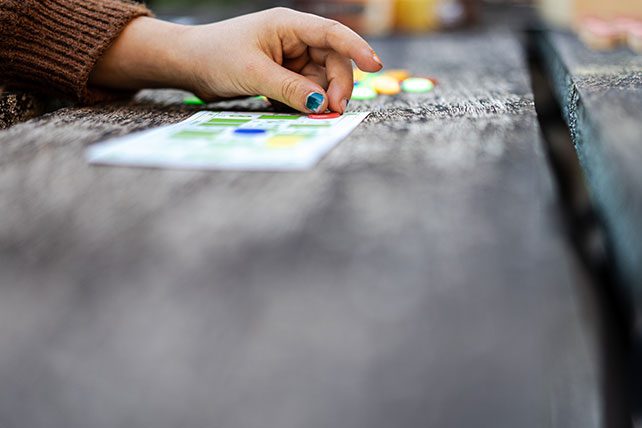 Thanksgiving bingo is a fun, creative way to spark gratitude in kids. From preteens to senior high youth, group members will enjoy this free activity.
Play Thanksgiving bingo during a regular youth meeting, after a youth worship service, or at a special event. Then tie in a discussion about what the Bible says about thankfulness.
Enjoy playing Thanksgiving bingo with your kids this fall!
You'll need:
Game: Thanksgiving Bingo + Free Download!
Say: God gives us so many reasons to be thankful. What exactly are we thankful for? Let's think of specifics today. What helps you feel loved, valued, and cared for?
Read 1 Thessalonians 5:18. Have kids name general ideas, such as parents, friends, talents, nature, and so on. Write each on a slip of paper, and have kids fill their game boards. Then have kids cut paper pieces to use to cover their bingo board squares.
Randomly call the words. As you call each thing, let one player explain thankfulness for that word. When someone covers four in a row, the player shouts "Thankful!"
Reread 1 Thessalonians 5:18. Ask:
What was it like to hear things others are thankful for?
How can you put the Bible verse into practice this week?
Why do you trust God to give you everything you really need?
Close by sharing more Bible verses about gratitude. Examples include:
Give thanks to the LORD, for he is good; his love endures forever. Psalm 107:1
Jesus heals 10 lepers, yet only one returns to say thank you. Luke 17:11-19

Let the peace of Christ rule in your hearts, since as members of one body you were called to peace. And be thankful. 

Let the message of Christ dwell among you richly as you teach and admonish one another with all wisdom through psalms, hymns, and songs from the Spirit, singing to God with gratitude in your hearts.

And whatever you do, whether in word or deed, do it all in the name of the Lord Jesus, giving thanks to God the Father through him. Colossians 3:15-17
Check out all these great ideas for Thanksgiving.
This article about Thanksgiving bingo originally appeared here.