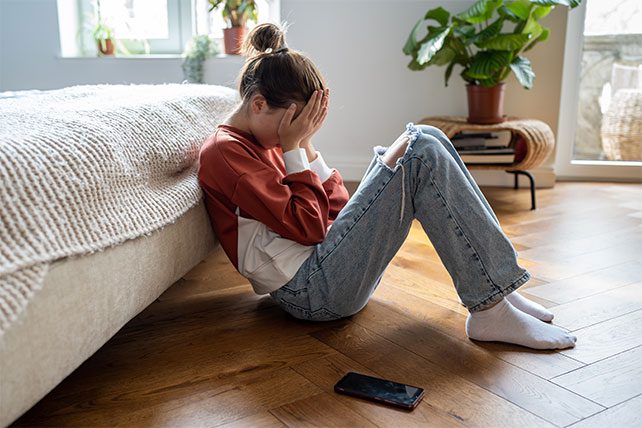 Social media may help connect people, but it also has serious impacts on impressionable users. Teens are especially vulnerable to the downsides of constant digital interactions. Not only can kids become addicted to cell phones and social media. But their self-image, body image, and mental health can suffer as a result. Depression and anxiety have spiked among teens, especially since the pandemic.
Instagram, Snapchat, and TikTok entice teenagers who want to be part of the latest trends. But with their still-developing brains, kids aren't necessarily equipped to handle all the accompanying pressures.
Youth pastors and parents of teens can attest that most kids today seem glued to phones. And researchers say that's having major consequences. But they also point to ways to address the problem without simply banishing technology.
A Look at Social Media & Anxiety
According to recent estimates, about one-third of U.S. teens say they're "almost constantly" engaged with devices. Being online and feeling compelled to frequently check posts and notifications affects young people's attention spans, quiet time, family time, and sleep.
Psychology professor Jean Twenge, who writes books about young people, notes that teen depression started increasing about 2012, just as smartphones gained popularity. Around that time, she says, it became common to "like" posts, "and the algorithms started to become more sophisticated to keep people on social media for longer. That's clearly not a coincidence."
Depression, anxiety, and body-image issues seem to especially affect teen girls. Being on social media and posting selfies for other people's approval exacerbates the already difficult journey of adolescence. Cyberbullying, eating disorders, and self-harm are impacting children at younger and younger ages.
Youth mental health is "the defining public health issue of our time," according to U.S. Surgeon General Vivek Murthy. Because no research shows that social media is safe for kids and teens, he says, adults must take steps to protect them from harm.
Be Proactive About Social Media: 5 Guidelines
Parents and youth leaders don't have to be helpless bystanders. Follow these tips to guide kids through the social media maze:
1. Establish some tech-free zones and times.
Even for older teens, don't shy away from setting limits for phone and social media usage. Everyone needs a break from screens, and kids might not be able to self-monitor. Provide tech-free options for down time, including family board-game nights and nature-related outings. When teens discover life without being tethered to a smartphone and social media accounts, their outlooks and attitudes may improve.