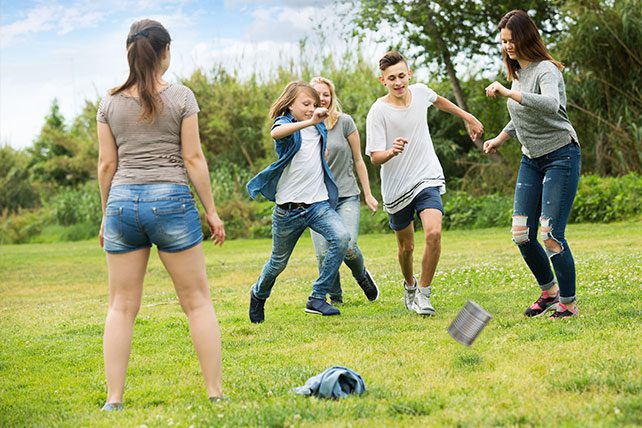 Kick the Can isn't just an old-fashioned game—and it's not just for children. If you're running out of high-energy youth group games for preteens or teens, give this a try. Kick the Can is similar to classic favorites such as Hide and Seek, Tag, and Capture the Flag.
In the classic game Kick the Can, teammates cooperate to outwit whoever is It. The goal is to avoid being tagged. The low-cost, accessible game involves speed and agility. Basic rules for the original game are available here.
Best of all, the activity can be modified in many ways. Set goofy rules, or ask kids to come up with their own innovative twists on Kick the Can. Play this active game for teenagers outdoors or inside, as weather and space allow.
If you'd like, award small, goofy prizes to players on the winning team. After kids are worn out from playing, gather around for some snacks and fellowship.
Pro Tip: After teens are pros at Kick the Can, have them lead a children's ministry game night. Or let them volunteer and lead games at a church carnival or community outreach event!
Kick the Can: 6 Variations on the Game
Next, let's look at some variations on this awesome game. Students will have a blast discovering new twists on an old favorite!
1. Designate a group to be it.
Do you have lots of players? Then more than one person can be It. Have them travel as a group.
2. Use more than one can.
Add challenge to Kick the Can by using more than one can. (By the way, the "can" can be any type of object. So use your imagination!)
3. Try a Kick the Can escape room.
Spice up youth game night with this creative version of Kick the Can. Find a large area for the escape room. And be sure to recruit volunteers to help you set up and run this activity.