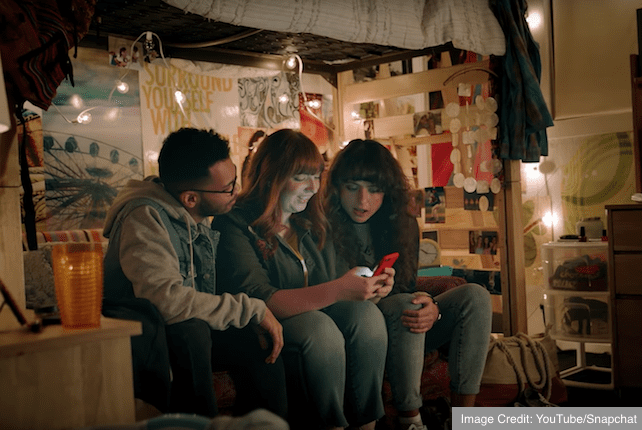 Does your teen use Snapchat? The widely popular social media app has launched a new service called "Cosmo After Dark" that promises X-rated content to users. If your child is one of the 75 percent of teens1 that use Snapchat, you should be concerned.
As Protect Young Eyes reports, "Cosmo After Dark seems to include a new, more pornographic level of sexualized content, even by Snapchat's standards." The article tells readers not to be so surprised since the app was originally started by college students interested in sexting.
Cosmo After Dark Is Bad—Really, Really Bad
But what is so concerning about this latest move by Snapchat is the content available through "Cosmo After Dark." It is part of Snapchat's Discover section, which includes articles and video advertisements from different media outlets like ESPN, Cosmo, Buzzfeed, E!, MTV, CNN, and others. You can imagine, based on the outlets providing content to this section of the app, that the content available here has always been a mixed bag of good and bad. But this new one, "Cosmo After Dark", really pushes the envelope. The channel goes live each Friday at 6 p.m. EST.
Protect Young Eyes includes screenshots of the things they saw as they briefly scouted out "enemy territory". What they share is not good, to put it mildly. One article they captured is titled "The 19 Best Sites to Binge-Watch Porn On". Imagine your teenagers stumbling upon this article.
And stumble upon it they very well may. It's unclear what content users may and may not see, depending on the birthdate they used when they signed up for Snapchat. You may want to take a look at your teen's phone to determine whether he or she has access to the channel or not.
Lack of Parental Controls Exacerbate the Problem
It's hard to determine whether or not your teen has stumbled upon this section of the app—whether deliberately or not. The only way for you to know after the fact is if your teen decided to subscribe to the "Cosmo After Dark" channel. If they did this (unlikely since you can still view the content on the channel whether or not you are subscribed), the channel would show up on their Subscriptions section of Discover.
The only thing Protect Young Eyes recommends parents can do is to ensure the birthdate is listed correctly for their underage user. Instructions on how to set the correct birthdate for a Snapchat user can be found here.
The Solution May Not Be Parental Controls, Though
So what can a concerned parent do to prevent his or her teen from accessing porn through Snapchat? The best prevention for promiscuous online behavior is always going to be relationship and honest conversation. Parental controls are good, yes. But they are hard to come by and they can't protect against everything. For instance, you can have all kinds of controls set up for a phone or computer and your teen's friend could send them an inappropriate picture out of the blue. Not to mention the things your teen might be exposed to at a friend's house or on another person's phone. The truth of the matter is, we aren't going to be able to protect our kids 100 percent of the time. There are too many variables for us to control. Where safeguards and rules fail, we need relationship to help us know when there is a problem with our teens.
Do you have enough relational equity built up to be able to have frank conversations about sex, porn, sexting, and inappropriate content with your teen? If you don't, I wouldn't start with "Are you looking at that junk on Snapchat?! I certainly hope not!" If you don't feel you have enough equity built up, personally I would start with a prayerful approach to grow closer to your teen, to a point where you can bring these things up (or better yet—your teen feels he or she can bring them up) without invoking the next Cold War. If you feel this kind of relationship is a long ways off and you're really concerned now, is there another level-headed adult (preferably Christ-following) who can talk to your teen about this? How about the youth leader at church? It just needs to be someone your teen respects, trusts, and talks to.
If you do have relational equity built up with your teen, however, you are the best person to talk to your teen about Snapchat content. Honestly, you are. You are the one who cares for your teen with the best motives. So even if you're not sure exactly how to bring it up, don't let that stop you from doing something. Through the eye rolls and the embarrassed reactions and the sighs, deep down your teen knows you care about him or her. And they will be glad you said something, especially if you are rescuing them or preventing them from a lifetime of porn addiction. It can be a scary world out there on social media, and your teen feels that—whether or not he or she can articulate it.