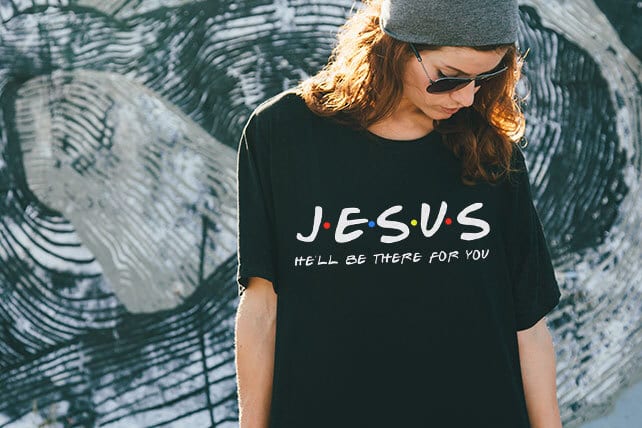 As a near turn-of-the-century youth group kid, I was beyond privileged to grow up with some of today's most iconic Christian music influencers. DC Talk, Petra, Steven Curtis Chapman, Newsboys, Skillet, Audio Adrenaline, Michael W. Smith, Amy Grant, and the late great Carmen, just to name a few.
With all those artists also came great merchandise, which inspired others during the late 80's and 90's to cash in on the apparel train that gave us what is known as "witness wear." Christian t-shirts or faith shirts with messages, images, and sometimes even scriptures on them designed to witness, state one's faith, or invoke gospel conversations — all without saying a word.
Scrolling through history (and yes, maybe even searching for some of the cheesy Christian t-shirts I personally owned), I came across these gems that might inspire some nostalgia. Maybe you'll even throw one in your cart for old-time's sake. 🙂
15 Christian T-shirts You Had in Youth Group (or Maybe You Still Have)
1. Lord's Gym: "Bench Press This!"
I owned this beauty in the 80's and wore it so much that it developed holes. The shirt was bold and in-your-face, telling all those who saw it what your Savior Jesus Christ did for the world. It was John 3:16 in an image, and I remember getting looks and comments when I was a kid wearing one of the most graphic Christian t-shirts of its time. The shirt is still available for purchase…and some things are just too good not to share.
2. MegaLife Through Prayer: To a Holy and Righteous God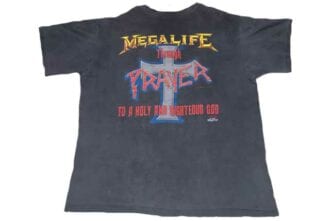 This one got denied by my parents because it was a play on the popular metal band Megadeth's logo. (I'll add that it's been reported that lead singer Dave Mustaine is a born-again Christian.) This original design is so vintage it isn't easy to find.
3. My Lifeguard Walks on Water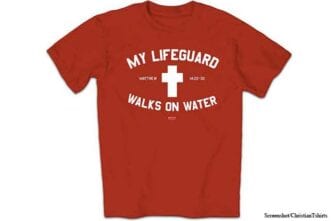 A more subtle approach, yet this t-shirt still exemplifies gospel identity and Matthew 14:22-32, the Scripture reference of Jesus walking on water. You can still find it here.
4. J·E·S·U·S – He'll Be There For You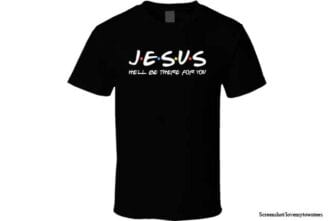 Piggybacking off the hit television show Friends as a way to announce you're a Jesus Freak is never a bad idea. This was a knock-off of the iconic 90's sitcom's logo and theme song by the Rembrandts, "I'll Be There For You." The shirt changed one word and now tells the world that 🎶 "He'll be there for you." You can find this one here.
5. Enjoy Jesus Christ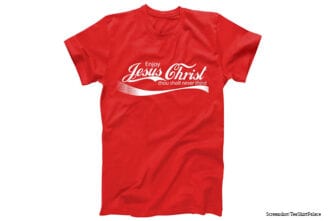 Trademark infringement — or cool religious t-shirt? You be the judge of this Coca-Cola-inspired Jesus shirt. It tells people who give it a stare that they'll never thirst if they're enjoying Jesus Christ. It can be purchased here.
6. Christ: Jesus Christ Is the Only One Who Can Quench Your Thirst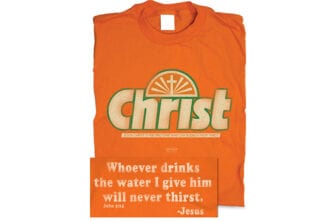 If Coca-Cola wasn't your soda of choice, maybe you owned one of these life-bringing tees borrowing from Orange Crush's design. This one isn't easy to find today, but I remember catching sight of these in the wild when I was in youth group.
7. Catch Up With Jesus: Blessed From My Head To-Ma-Toes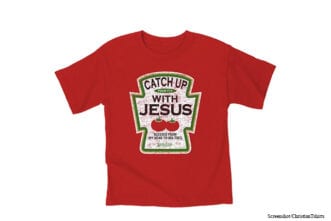 Telling people to read Psalm 37:4, which tells us to "Take delight in the LORD, and he will give you the desires of your heart," this tomato-tomahto is sure to catch people's eye. Want to bottle up this gospel tee? Check it out here.