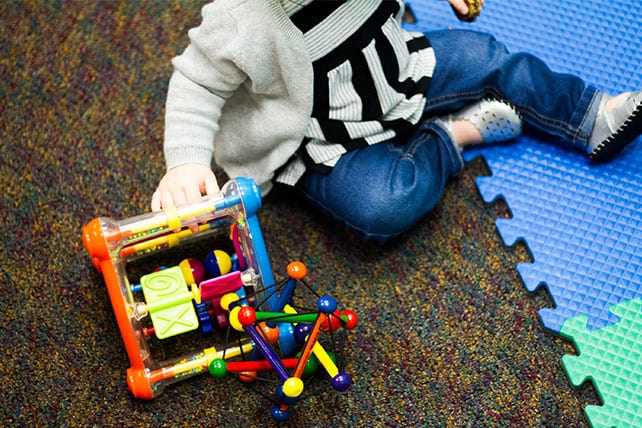 Are you looking for children's church room ideas that delight kids and parents? Are young learners excited to show up every Sunday and spend time learning about Jesus in the space you've designed for them?
If you're looking for fresh new children's church room ideas, you've come to the right place. Best of all, it doesn't take a huge budget to update your space and make it fresh and exciting.
We've put together a few children's church room ideas that will work on a budget. Choose one, some, or all of the suggestions to give your meeting area a boost. Plus, a new design is sure to put a smile on little ones' faces!
8 Great Children's Church Room Ideas
1. Declutter.
This first idea is free! Grab a couple of volunteers and take an hour or two to declutter your children's ministry space. In kidmin, it's easy to acquire a lot of supplies, materials and toys, especially if your church has been around for a while.
Think about it: When's the last time someone took the time to sort through old art supplies, curriculum, toys and books? Get rid of anything dingy, old and broken as you sort. Be ruthless in tossing out everything that doesn't meet a high (but reasonable) standard. Kids deserve thought and care when it comes to the quality of children's church room ideas!
This is the perfect time to take inventory of what you have, which will help you figure out what you need. Imagine how good it will feel to step back and look at your newly decluttered space with a clear list of what you can add to make it better. Plus, decluttering prepares you for the next step…
2. Deep Clean.
This idea is free, too. In fact, hold on to those volunteers for a couple more hours and knock your decluttering and cleaning out in one afternoon! You've tossed out all the extras you accumulated through the years, which has probably cleared up a lot of surface space. This makes it much easier to clean.
Of course, you should clean the children's ministry area regularly (we're sure you already do this). But a deep clean helps it sparkle like new. From the baseboards to the lighting fixtures to the dark corners of cabinets, leave nothing out. Dust, wipe, scrub, mop, vacuum, polish…it's for the kids!
Bonus tip: Provide volunteers with lunch, snacks and high-fives for taking the time to be awesome and help you out.
3. Paint.
You knew this one was coming, didn't you? That's because nothing brightens up a space quite like a fresh coat of paint. This is a chance to have some fun. After all, kids love color.
If your kidmin area doesn't have a color theme, this is a great time to establish one. Color theme or not, choose something happy and bright that energizes the space.
It's a good idea to get a few paint samples and try them out next to each other in several spots throughout the room. A color may seem great on that square paper swatch at a local home improvement store, but it can look completely different once it's on the walls. Try out several small samples to make sure the color you're choosing looks good in your unique space.
Satin or semi-gloss sheens are good choices for high-traffic areas because they're easy to clean. A quick wipe with a wet rag erases any little fingerprints that make their way onto the wall. Speak with the experts from Window Replacement DC – Springfield to see how they can help you with your home improvement project.
4. Add Rugs.
Kids spend a lot of time on the floor! Depending on the size of your children's ministry space, a couple of new rugs can be a great way to make a room feel more inviting and cozy. These don't have to be expensive; some great budget-friendly options are available. Colorful and soft are the main criteria.
Be sure to give the rugs extra attention during the regular cleaning process. Kids spend a lot of time on them, so clean up those inevitable crumbs and crayon marks before they accumulate.
Another fun option is foam floor tiles, and they're definitely easier to clean. You can also customize the sizes to fit your unique space.