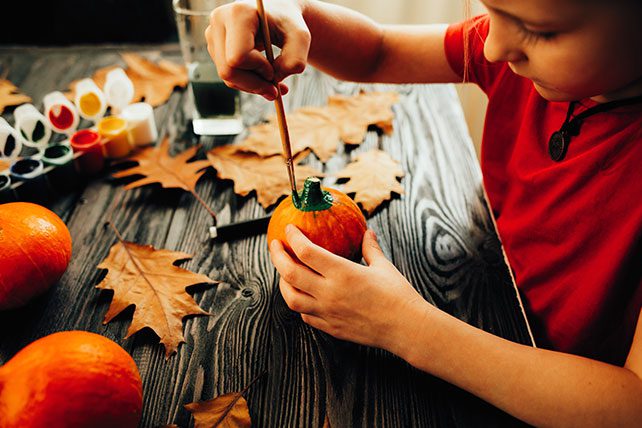 Fall festival ideas are almost as abundant as fall leaves. So if you're looking for a new twist on this seasonal favorite, keep reading!
A fall festival is a great opportunity for kids and families to have fun and hear about Jesus. Pack your next harvest event or Trunk or Treat with these ideas from children's ministry leaders.
98 Fun Fall Festival Ideas
From prizes and activities to volunteers and snacks, here's a whole haystack for your next harvest event!
Fall Festival Ideas: Eye on the Prize
Treasure Box – Kids dig for prizes in a sand-filled aquarium.
Door Prizes – As they enter, participants get tickets for a drawing held later.
Treasure Dig – Kids dig around in a kiddie pool filled with plastic foam packing peanuts and small toys.
Cheap Thrills – Order inexpensive prizes from the dollar store.
Church Donations – Have a sign-up sheet for church members to donate specific prizes or booth supplies.
Prize Finds – Request giveaways, promotional items, and gift certificates from local restaurants, stores, and companies.
Candy Admission – Have kids bring a bag of individually wrapped candies to be given away as prizes.
Toy Collection – Have kids bring a clean toy, stuffed animal, or game they've outgrown as their admission. Give a ticket value to each prize. Kids can cash in tickets for prizes, a la Chuck E. Cheese style.
Sucker Tree – Kids pull suckers from a Pegboard. The color of the sucker handle corresponds to a prize.
Fall Festival Ideas: Crafts
Masquerade – Kids make masks out of paper plates.
Art Mural – Hang a roll of newsprint and let kids create a masterpiece.
Crazy Caps – Kids decorate old baseball caps by gluing on beads, buttons, ribbons, sequins, feathers, and fabric scraps.
Swirl Painting – Kids make art designs from a swirl painting kit—available at toy stores.
Pumpkin Decorating – Give kids craft supplies and markers for no-mess decorating.
Creation Station – Kids create art with this "putty": Stir 4 tablespoons of glue and a few drops of food coloring in a bowl. Add a few teaspoons of dissolved borax water solution. Stir. Then squeeze it like dough. Provide water for washing hands and plastic bags for the putty.
Fall Festival Ideas: Bible-Based Activities
Indoor
Puppet Shows – A new puppet show every half hour in your sanctuary.
I Was There – Have Bible characters deliver monologues. For example, a "leper" could run through the crowd yelling "unclean." Once the leper has an audience, he delivers a monologue about how he's searching for Jesus–the Master Physician.
Jonah and the Big Fish – Decorate a refrigerator box to look like a big fish. Hang moss on the top inside of the box. Use a red light inside and have "Jonah" tell his story.
Super Hero Story Tent – Every half-hour, a creative storyteller tells a different Bible story.
Live Reformers – Costumed Martin Luther, John Calvin, or John Knox give brief presentations about what happened in their lifetimes.
Moses' Super Journey Obstacle Course – Children experience the Israelite's journey by running through sprinklers, eating graham cracker manna, carrying cardboard tablets over sturdy step ladders, pushing through oversize grape clusters of purple balloons, fighting giant cardboard cutouts with bed pillows, and running through streamers to the Promised Land where they receive compasses.
Bean the Philistine – Kids sling small beanbags at a life-size plywood cutout of Goliath.
Moses' Super Cake Walk – Instead of numbers, use the 10 plagues to mark your cake walk. Children walk the circle as music plays. When the music stops, the child closest to the drawn plague wins the cake.
Pin the Thesis – Have "Martin Luther" talk with children before blindfolding and spinning each one. Then each child tapes a pre-printed "thesis" to a door.