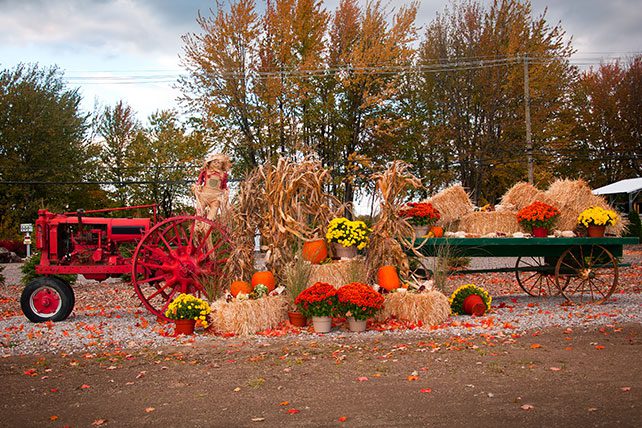 Church fall festival games are a must for a children's ministry harvest event. If your congregation is planning a fall fest this autumn, prepare now!
As children play together, they'll discover new things about one another. Plus, they'll have a blast! You'll build unity in your group with these 10 church fall festival games. Then kids will start clamoring for your church's next kidmin event!
These 10 "everyone wins" games and activities are perfect for a church fall festival.
10 Church Fall Festival Games for Kids
1. Rug-Weaving Relay
Ages 6 and up
First, form groups of four or more. Give each group a roll of bathroom tissue. To weave the rug, groups lay out four 6-foot rows of tissue. Then they must weave four 6-foot rows across the first rows. Tell groups to weave their rugs tightly so the rugs will be sturdy. Then once the rugs are finished, have groups raise their rugs and hold them in the air.
2. Human Scarecrows Game
Ages 8 and up
Form groups of four. Give each group paper bags, newspapers, scissors, and tape. Have each group choose a person to "turn" into a scarecrow. Allow 15 minutes for each group to cut and tape the scarecrow outfit onto its person.
Next, take pictures of all the scarecrows. As a prize, give each person a piece of Dubble Bubble Painterz bubble gum to "paint" their tongues different colors.
3. Cornstalk Hockey
Ages 8 and up
Form two teams. Give each teammate a cornstalk, broomstick, or tree branch to use as a hockey stick. Use a newspaper-stuffed paper lunch sack as a hockey puck. You'll need several of these because the game action will shred them quickly. Set a trash can on its side at each end of the play area to use as goals. The object of this game is for each team to get the puck into its goal.
4. Hayride Game
Ages 7 and up
Everyone takes a turn in this fall festival game for kids. Have players use the first letter of their name as the starting letter of each word in a sentence of four or more words. For example, Rhonda may say, "Rhonda runs road-rat races." Bill may say, "Bill beats bats but barely beats bulls." The sentences can be silly but must make some sense. For added fun, play the game with the starting letters of people's last names.
5. Harvest Stew Snack
All ages
To celebrate God's faithfulness at harvest time, ask each child to bring an ingredient for a Harvest Stew snack. Kids might bring popped popcorn, raisins, small chocolate candies, or pretzels. (As always, be aware of any food allergies.) Mix all the ingredients in a large clean container, such as a plastic barrel or bucket. Then drizzle melted butter over the snack and sprinkle with cinnamon.
Serve in paper cups. Provide plastic sandwich bags for children to take home any leftovers. (Use this same concept for punch, with everyone bringing a different juice.)