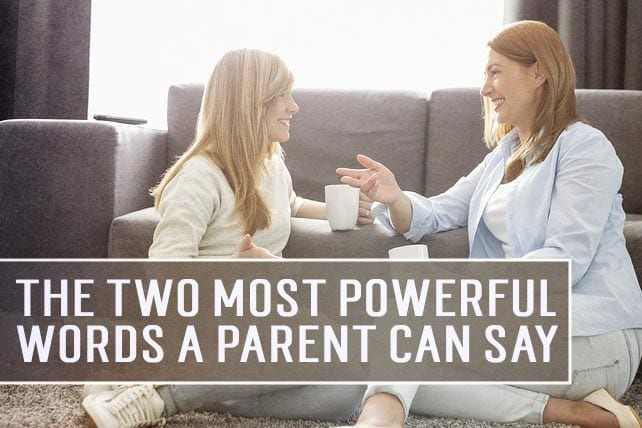 Parents mess up.  ALL parents mess up.  Even deeply committed Christian parents mess up.
But, not all parents are willing to admit it.  Two of the most wonderful words children of all ages can hear from parents are, "I'm sorry."  These are also two of the most difficult words for parents to say.
Too often, we wrongly believe that in order to have the "upper hand" as a parent, we must be seen as infallible.  We must never admit our mistakes for fear it will show weakness to our children, and they will try to exploit it.  Parents who believe and practice this – do so at their own peril.  The truth is, the parents who are willing to say, "I'm sorry" actually RISE in their child's esteem.  Those who refuse to say these two powerful words place a huge divide between themselves and their children.
Your kids aren't stupid.  They know when you are wrong.  They know when you have made a mistake.  When you refuse to admit your mistakes, your children begin to see you as someone who cares more about BEING right than DOING right.  It's hard to recover from that.
Saying "I'm sorry" doesn't only apply to the small things like being late to pick your child up from practice or forgetting to bring home ice cream like you promised.  "I'm sorry" are two words that need to be used for the BIG blunders as well.  Apologies are necessary for individual offenses, but parents also need to address prolonged, harmful patterns of communication—demanding too much, blaming, withdrawing, smothering, and so on.
Let's face it, not every parent today grew up in a healthy home.  Often, you are doing your best to parent your own kids in spite of the negative, dysfunctional home you grew up in.  You want to be a good parent, but you are often guessing at HOW to do it well.  You didn't have the best example placed before you growing up, so you struggle with communicating with your child in a healthy way.
In many cases, parents can and should explain how their own painful backgrounds have colored their perceptions and shaped their responses.  These stories help the rest of the family understand how they got this way, but they aren't excuses for bad behavior.  The offending parent needs to own the offenses, apologize, repent, and begin to rebuild trust.  A full apology communicates, "I get it now.  I realize how I've hurt you, and I'm deeply sorry.  I want to open the lines of communication with you.  I'll do my very best to do better, and I need your help.  Will you tell me when I mess up again?  I have a long way to go, but I'm stepping onto the road today."
This isn't just a theory.  I've had these conversations with my kids.  I have asked Ashton and Jordan to speak up anytime I become condescending or demanding, and I've promised that I'll respect them when they have the courage to call me on my personal shortcomings.  That means I don't get angry when they're honest with me.  I don't walk off in a huff, and I don't look for some reason to blame them and turn the conversation around.  I take it like a man and thank them for their courage and love.
For instance, I get upset when mechanical things don't work.  I won't go into the deep, psychological reasons for my sense of electronic entitlement, but you can be sure that if a computer program or a television remote or a lamp doesn't work the way I want it to work, my reaction isn't pretty!  When my face gets red, I begin to growl, and it looks like I'm going to yank the cord out of the wall, Ashton and Jordan can say, "Calm down, Dad.  Have some patience."  That's enough to remind me of my commitment to them to maintain my cool.
When they speak up, I don't bark, "You can't tell me to be patient!  Can't you see that this darn thing isn't working?"  Instead, I thank them for their loving reminder.  My relationship with them is far more important than my desire to have electronic components run smoothly.  And because I have asked for their input, they are validated as valued, respected people.
How about you?  Do your kids have permission to respectfully call you on it when you make a mistake?  Do you need to "man up" or "woman up" and bring yourself to say those two powerful words?  Do it now!  Get up from the computer, call your kids to the living room, turn off the TV, and say it.  "I'm sorry."  They are two of the most powerful words you can say to your kids.  Speak those words – and watch the healing begin.
***Adapted from a chapter in my upcoming book, "Talk Now And Later:  How To Lead Kids Through Life's Tough Topics" (coming September 1st)***