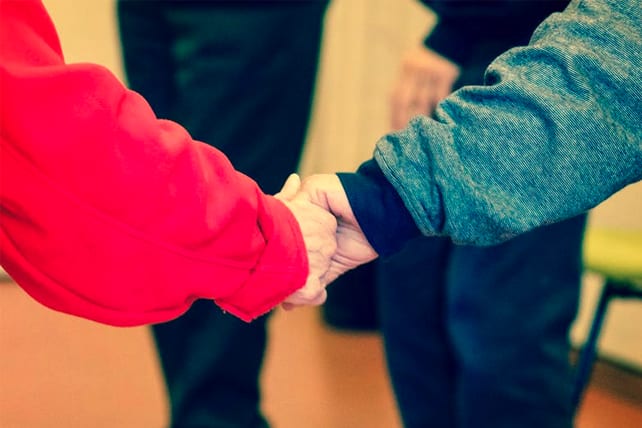 Why aren't people coming back to your church? Maybe because they're not having the best guest services experience in your children's ministry.
Think about it. Have you ever had a bad experience at a restaurant or place of business? If so, I'm sure you remember it. We don't usually forget it, do we? Here are a couple of reviews I read recently.
"The pizza was frozen, the staff was not helpful and most of the parents didn't know how to watch their kids. I'd rather pass kidney stones without pain medication than be dragged there again."
"One of our friends from out of town has type 1 diabetes. While we stood there waiting for a table in a restaurant, his hands began to shake. It looked like he was going into diabetic shock, which can be prevented with a quick infusion of sugar, from, say, a glass of orange juice. So, one of us frantically asked one of the servers behind the bar for a glass of orange juice. 'Our friend, who is diabetic, needs some orange juice asap.' The server looked at our friend's shaking hands, looked at her, and said, 'Nice act.' What happened next? Well, our friend went into shock. He shook uncontrollably and collapsed on the floor. We called an ambulance. The paramedics came, took him outside and helped him get his blood sugar level back to normal."
I seriously doubt the people ever went back to those places and they spread the word about their bad customer service experience.

Contrast that to when you receive great customer service. We don't forget that either, do we? And we spread the word that we've found a place that really values their customers.  
Here's what we must understand. The people who are walking in the doors of your church are not comparing your guest service to just other churches. They are comparing your guest service to places of business, restaurants, clothing stores and other establishments they interact with.  
If you want to see guests return to your church, then you've got to deliver a great guest service experience.
Here are 10 steps you can take to improve your guest services.

Step 1 – Provide Great Parking
I chuckle when I see a church that has reserved parking for the pastor and staff right in front of the church. I'm all for honoring pastors, but when it comes to parking, I believe we should give guests the best parking spots. Pastors, staff and volunteers can lead the way by parking in the worst spots and saving the best spots for guests.
The sermon starts in the parking lot.
Think about when you're riding around a store like Target, looking for a place to park. Once in awhile, the seas of cars will part and there it is…a great parking spot that is in the front. You smile and quickly pull in. You walk into the store whistling a tune and happy that you were blessed to find such a great parking spot.
When you reserve great parking for guests, that's the way they will feel as they walk into your church. You're off to a great start in providing them with a great experience.
Step 2 – Have Clear Outside Signage
Speaking of walking in the building, it helps to be able to know where to walk in. I spend a lot of weekends consulting with churches and recently I pulled into the parking lot of a large church on a Sunday. Problem was, there was no outside signage. After driving around for awhile, I finally parked as close as I could get to the big front doors.
But when I got to the front doors, I discovered that they were locked. Even though it looked like an entrance, it wasn't  I walked to four other sets of doors until I finally found a door that was open. I walked down the hallway and opened another door and suddenly realized it was the baptistry door. A few more steps and I would have made a splashing entrance into the service.
Needless to say, it was a frustrating experience that could have been avoided with some simple outside signage that marked where to enter. This is especially helpful if families have children and are looking for an entrance into the children's area.

Step 3 – Friendly Greeters at the Doors
Notice I used the word "friendly." It's important who you place as greeters. There are some people who must have been baptized in pickle juice. They have the personality of a prune. In other words, if the wicked witch of the west attends your church, you don't want to place her as a greeter.
Your greeters are the face of your church. Make sure you have smiling, positive, helpful, pleasant people at the doors. Train them to make people feel welcome and comfortable.
Step 4 – Separate Check-In Area for Guests
One thing that we all hate to do is wait in line. So this is something you want to focus on for guest services. It's important to have enough check-in areas for your regular attendees so they don't have to wait very long to check in. But it's especially important to not make first-time guests wait in line. One way you can avoid this is to have a separate check-in area for guests. This also gives you more of an opportunity to focus solely on them and give them the royal treatment.
Step 5 – Train Your Guest Services Team to Know What NOT to Say
It's just as important to know what NOT to say, as it is to know what to say. Here are a few examples.
Instead of saying "I don't know," say "Let me find out for you."
Instead of saying "She's can't talk right now," say "She's currently teaching the kids. I'd be happy to let her know you stopped by and give her a message for you."
Instead of saying "No problem," say "It's my pleasure."
Instead of saying "It's over there," say "I'd be happy to show you. Follow me."
Step 6 – Walk With Rather Than Pointing
Have you ever been in a big box store, wandering around, trying to find something with no clue where to go? You look around and there's no one in site to help you. Frustrating isn't it?
That's the way guests feel when we leave them to find their own way through our buildings. Even if you give them quick directions to a specific area, they will probably still be uneasy as they try to navigate through an unfamiliar place.
Always…always…always walk with guests to their children's classrooms and then take the parents to the auditorium. This not only makes it easy for them, but it also gives you the opportunity to do step 7.