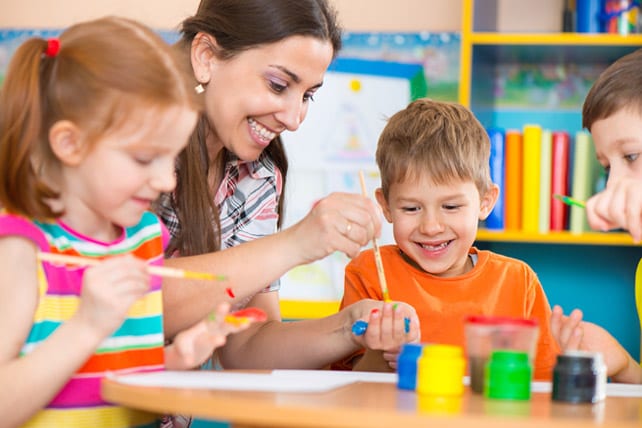 Chances are, if your church has a long history of Vacation Bible School, it can be difficult to make any sweeping changes. Sometimes traditional events take years to become your own, but you can begin with small tweaks to update a long established model. Below are a few of my favorite ideas to add a twist to any VBS.
Take VBS Outside the Church Walls
Some of my favorite VBS models are the ones that never happen inside the church building. Whether you meet in a park, community center or neighborhood, taking VBS outside the church may increase your reach to those that may never darken your church building doors. Smaller, simultaneous locations can provide for better ministry, follow-up and outreach.
Crafts That Go Further
You don't have to be a VBS pro to know that many of your budget dollars go to crafts. While some crafts may be meaningful and even make it home with kids, many are left at church or even thrown away. Why not take a day or two and make crafts that can be shared with others? Nursing homes, children's hospitals and public servant offices are a great place to take special crafts to encourage and point others to Jesus. With the new trend of finding and hiding rocks in communities, you can also share the message of the Gospel with others by challenging kids to hide a Gospel-sharing rock in a local community spot.
See Senior Adults as Superstars
Senior adults bring much more to VBS than serving fruit punch and popsicles. More than five years ago, we recruited a group of senior adult men and gave them the title "High Five Guys." Their job was to stand at the door in bright yellow Ikea vests and greet and high five every child coming in the door. We also put them in charge of our VBS bling. What is bling, you ask? Well, we created small round buttons with each day's bottom line on them, and kids were rewarded them when they could say the bottom line to a High Five Guy. What we thought was just a great idea to add a personal touch to our entrance has turned into a group of men that are like rock stars for the week. Kids can't wait to get to these men and recite the bottom line or give them a high five with a running start. One man who has served in countless roles in church over his years says being a High Five Guy has been one of the most fulfilling areas in which he has ever served. Now we don't don't even have to recruit men for this job: They are inviting their friends and it has turned into a fraternal group of men so excited to impact kids at the entrance that we have way more volunteers than we need. Now that's a VBS problem I can deal with each year.
Content Over Theme
For years I stressed and stressed over theme, decor and decorations, but the past couple of years I have chosen to put content over theme. Don't get me wrong, I still like to dream with a table of creatives about how we can capture kids' attention as soon as they enter the church. However, that takes a backseat to a more eternal approach. If the curriculum isn't biblically based and Gospel-centered, it isn't even considered. I would rather start with sound doctrine and add creativity than be creative and lacking substance. Time is short; therefore, content simply matters more.
Taking a Cue From Disney
Years ago I took a trip to Disneyworld and came home challenged to bring their customer service to the forefront of our VBS. Instead of buttons that say "first timer" or what is being celebrated, we created VBS MVP buttons that our guests wear. This enables our greeters, teachers and staff to not only quickly see who is visiting for the week, but also call them by name. Kids are blown away that we know their name as soon as they step on campus. These buttons also give our kids a chance to be the church and reach out to our visiting kids and make them feel welcome.
Sometimes I am overwhelmed by all the ideas I hear other churches doing. When I feel this way, I seek God and simply try to focus on one thing I can make better. So if you want to add a twist to your VBS this year, what one thing can you do differently?