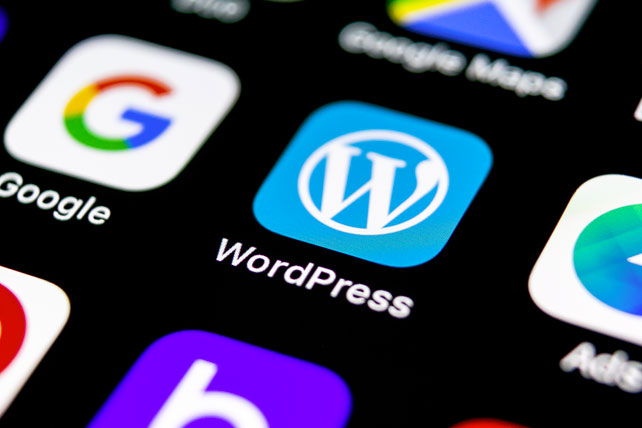 What are the best CMS solutions for church websites? There are content management system (CMS) platforms that provide free solutions for building professional-looking websites. These options include WordPress, Wix, SquareSpace, Joomla, and Drupal. Each platform provides its own set of pros and cons. Wix and SquareSpace are essentially website builders with streamlined, drag-and-drop interfaces. Joomla and Drupal provide more customization options, but they come with a steeper learning curve. WordPress provides the most complete CMS solution. There are over 45,000 WordPress plugins and thousands of themes, allowing users to create any type of website and customize it to their liking.
WordPress Is the Top Choice for CMS Platforms
WordPress is the most used platform for all types of web design. From small businesses to bloggers to churches, this platform includes features that should appeal to almost everyone. WordPress offers two different options for setting up your website. You can either use WordPress.org or WordPress.com.
WordPress.com provides free website hosting and limited access to the thousands of plugins created for the WordPress platform. By upgrading your account, you can get increased storage and access to more plugins and themes.
The main advantage of WordPress.com is the price. A basic account is free and provides a simple option for quickly setting up a website. However, if you want more customization options and access to more plugins and themes, WordPress.org is the preferred choice.
WordPress.org is the standard WordPress platform. The WordPress platform is completely free. However, you do need a web hosting account to host your website and a domain name.
You can manually download the latest WordPress release, upload it to your hosting provider, and install it. Due to the popularity of WordPress, many web hosts now include one-click installs for WordPress, making it even easier to set up this CMS platform.
With WordPress, you can choose from thousands of free and premium themes. There are also many plugins that add more functionality to your website.
Whether you use WordPress.com or WordPress.org, you do not need any previous web design experience. The interface is easy to use, and there is plenty of documentation to help you with any issues that you may experience.
WordPress maintains a large forum with helpful tips, tutorials, and advice on building a website with this CMS platform. There are also hundreds of independent websites dedicated to troubleshooting issues with WordPress.
Keep in mind that WordPress.com is not a complete CMS solution. It does not include some of the advanced options found on the standard WordPress platform. With regular WordPress, you can add forums to your site and create and manage users. It provides the flexibility needed to appeal to a wide audience.
While there are other options, WordPress is the go-to solution for building a website. Within a few hours of installing the platform, you can have a basic website up and running.
You also have many customization options. Many of the free and premium WordPress themes allow you to easily change fonts, color schemes and add custom backgrounds or headers. These options are a little more restricted when using other CMS platforms.
With WordPress, you have an endless supply of options for making your website into a truly original online representation of your church. The various plugins include options that can make your life easier.
There are plugins for adding online forms so that you can collect email addresses for an email newsletter. There are also plugins for improving the search engine optimization on your site. Several developers create plugins designed specifically for churches, such as the Church Content plugin that provides custom types of posts.
There are just two potential issues with using WordPress to create your website. It up to you or your administrator to ensure that the various plugins, the theme, and the WordPress installation are up to date.
Whenever WordPress discovers a security flaw, they update their platform. You receive notifications about these updates. However, they are not automatically applied. You need to update your WordPress installation, themes, and plugins when new updates are released to maintain the security of your website.
The other potential issue is that you have so many plugins and themes to choose from that you may become overwhelmed. The variety and flexibility provided by WordPress is both an advantage and a disadvantage.
Due to the variety of options, some plugins and themes are mediocre or poorly coded, resulting in slower page loading speeds or other performance issues. However, there are still thousands of quality plugins and themes designed by experienced developers.
Wix and SquareSpace Offer Affordable Options
Wix and SquareSpace are two other popular options. Like WordPress.com, they are essentially website-builders and lack some of the features provided by a complete CMS platform. However, these website builders are incredibly easy to use.
In fact, some people may find the interfaces a little bit easier to navigate and understand compared to WordPress.
Wix simplifies the process of setting up a website. It includes hosting, website templates, and widgets in one spot. You do not need to buy a domain name, sign up for a hosting account, and upload the platform to your account.
Wix also provides a clean, simple dashboard and a drag-and-drop website editor. You can choose from a variety of templates and drag and drop elements on the page.
The one drawback to this simplified website-building experience is that the drag-and-drop feature can add unnecessary code to your website, resulting in slower page loading speeds.
With Wix, you also have a limited number of templates compared to the themes offered on WordPress. Wix offers over 500 templates. All themes are customizable. However, many of them are not free.
While Wix provides fewer templates compared to WordPress, most of these themes are professionally-designed. WordPress offers a combination of professionally-developed themes and themes designed by independent developers, resulting in a mixed bag of options.
Many organizations choose Wix due to the simple interface. You also get a guided setup that walks you through each step of the setup process. However, you get fewer designs, add-ons, and potentially slower web pages.
Wix offers a free user account along with a tiered membership plan. The least expensive plan starts at $11 per month and allows you to remove Wix ads from your free website.
SquareSpace shares many features with Wix. It is also more of a website builder than a true CMS platform. However, they do not provide free membership. You can use the free trial to test the platform, but the membership plans start at $12 per month.
SquareSpace provides a streamlined user interface, allowing you to customize your website from a single interface. You can insert custom CSS coding, change the layout and design, and control your SEO from one dashboard.
You can build a basic website with a professional design in just minutes. You do not need to buy a separate domain or web hosting. They are included in the cost of your membership.
The company also takes care of all maintenance, including updates. You do not need to worry about security issues or check for updates.
The drawbacks to using SquareSpace are the same drawbacks provided by Wix. You have less flexibility and customization options compared to WordPress. While you get fewer templates and add-ons to use on your site, you can still create a quality site in a short amount of time.
Weebly is another simple website builder platform and a close rival to Wix and SquareSpace. It provides a free option but requires your website to display Weebly ads. Like WordPress.com, you do not need to purchase a domain name or web hosting.
Everything is included with Weebly. However, they only offer a few dozen templates and several hundred add-ons. The customization options are also limited. The main benefit of this platform is that it is free and one of the easiest platforms to use.
Joomla and Drupal
Joomla and Drupal are free CMS platforms. Like WordPress, you can download the latest release of either platform and upload it to your web host for installation. Many web hosts also include automated installations for these platforms.
Joomla and Drupal are both open-source and suitable for creating any type of website, including a church website or a detailed e-commerce site.
Traditionally, Joomla has been the go-to platform for developers who want to create forums. However, it still allows you to create a standard website. It also provides better security compared to WordPress.
As WordPress is the most used platform, hackers spend more time targeting WordPress than any other platform. Joomla is not as big as WordPress, so it is less of a target. However, the company behind Joomla still takes extra steps to enhance the security of their websites, providing SSL certificates and two-factor authentication.
The main benefits of Joomla include enhanced security, SEO features, and a robust selection of CMS solutions. Besides creating a standard website, you can create forums. They also offer a hosted solution, which allows you to set up a free website, similar to the websites created on WordPress.com.
Unfortunately, Joomla can be difficult to use for those who lack technical knowledge. If you have never built a website before or used a CMS platform, you may struggle to get your website up and running. It is also harder to search for quality add-ons and templates for your website.
Drupal is comparable to Joomla and WordPress. All three options are open source, and they will allow you to install the platform on your hosting account and use it with your own domain name.
Drupal is also more secure compared to WordPress. It uses enterprise-level solutions to provide better security for your website. It is also a full CMS solution, with complex features that you let do just about anything with your website.
Some users may find it difficult to create a website with Drupal. It is not user-friendly. The menus and options can be a challenge to figure out while finding suitable themes and add-ons are even harder.
In many cases, organizations end up hiring experts to handle their website creation with Drupal. The complexity of the platform offers more customization. However, you need some technical knowledge to install add-ons and work with this detailed CMS platform.
Each of these options includes advantages and disadvantages. While Drupal is more functional compared to the other options, it is also more of a challenge to work with.
Choosing the right option for your church depends on several factors. You should think about the person who is going to handle your website creation. If you hire a professional website developer, any of these solutions should suffice. However, a professional is more likely to work with WordPress, Joomla, or Drupal compared to the other choices.
If you are handling the website creation yourself or allowing a volunteer to build the site, you may want a CMS platform that offers a simple user interface. Wix, Weebly, and SquareSpace provide easy-to-use website builders that anyone can use. However, they possess fewer features, add-ons, and themes than WordPress.
WordPress is a full CMS solution and it provides access to the widest range of customization features. It may not be as user-friendly as Wix or SquareSpace. However, it is still easy to use compared to Drupal and Joomla.
Conclusion to the Best CMS For Church Websites
WordPress, Wix, SquareSpace, Joomla, and Drupal are five of the most used CMS platforms. They are used by all types of organizations, from businesses to churches. WordPress is widely considered the best option, as it provides access to the greatest selection of plugins and themes, including many free options.
Wix and SquareSpace provide streamlined drag-and-drop website building tools. While they include various add-ons and themes, these features are typically costly. Joomla and Drupal are closer to WordPress, as they offer a variety of free add-ons. However, the interface is less user-friendly compared to WordPress and may be too difficult for a novice who has never built a website.
In the end, WordPress provides the easiest solution for building a professional-looking website for a church, even if you do not have any HTML or CSS coding experience.
This article originally appeared here, and is used by permission.