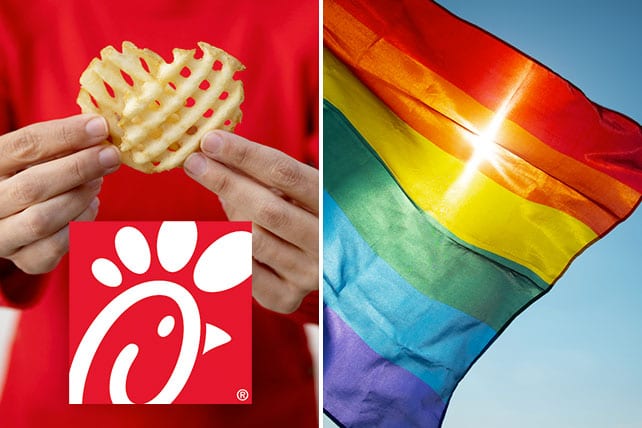 Chick-fil-A's recent move drew swift reaction from Christians when the fast-food giant announced Monday that in 2020, its charitable giving will focus "exclusively in the areas of hunger, homelessness, and education." As a result, the company's foundation will no longer donate to groups such as the Fellowship of Christian Athletes (FCA) and the Salvation Army, which have been criticized for holding anti-gay-rights positions.
In 2012, Chick-fil-A CEO Dan Cathy sparked debate by saying the company supported "the biblical definition of the family unit." Atlanta-based Chick-fil-A has faced protests and bad press for being anti-LGBTQ, despite company statements that it doesn't discriminate or have "a political or social agenda." Recently, various venues and cities have banned the restaurant, which is also known for being closed on Sundays. The privately held chain, which had estimated sales of $10.5 billion last year, has been expanding into more liberal parts of America, including New York City.
Chick-fil-A's Shift in Giving
Tim Tassopoulos, Chick-fil-A's president and chief operating officer, acknowledges that expansion is influencing the company's mission. "As we go into new markets, we need to be clear about who we are," he says. "There are lots of articles and newscasts about Chick-fil-A, and we thought we needed to be clear about our message."
The company wants to serve all community members while easing conflict, Tassapoulos says. "When there is a tension, we want to make sure we're being clear." This move, he adds, is "just the right thing to do: to be clear, caring, and supportive, and do it in the community."
Chick-fil-A's donations to the FCA and Salvation Army weren't related to those groups' opinions on LGBT issues, the company says. FCA put its financial gift toward summer youth camps, while Salvation Army used its for the Angel Tree program.
This year, the Chick-fil-A Foundation—the company's giving arm—made donations to more than 300 charitable organizations. Streamlining its giving, the foundation says, will help it better reach its mission of nourishing "the potential in every child." 
Some Christians Say Chick-fil-A 'Caves'
Word about the change spread quickly, with many Christian leaders saying Chick-fil-A gave in to secular pressure. Former Arkansas Governor Mike Huckabee tweets that the chain "surrendered to anti-Christian hate groups" and "betrayed loyal customers for $$." Huckabee, who once coordinated a national appreciation day for Chick-fil-A, says he regrets believing the company would "stay true" to the convictions of founder Truett Cathy.
Conservative talk-show host Joe Pags Pagliarulo tweets that Chick-fil-A "kowtows to the intolerant, hate mob," adding, "I cannot tell you how disturbing this news is to those who believe in traditional Judeo-Christian values. Shame on you."
Author Jonathan Merritt tweets: "America's favorite chicken chain caves, will cease donating to Salvation Army and Fellowship of Christian Athletes due to LGBT protests."
GLAAD, a gay-rights organization, says it's "cautiously optimistic" about the move. It emphasizes, however, that Chick-fil-A "still lacks policies to ensure safe workplaces for LGBTQ employees and should unequivocally speak out against the anti-LGBTQ reputation that their brand represents."