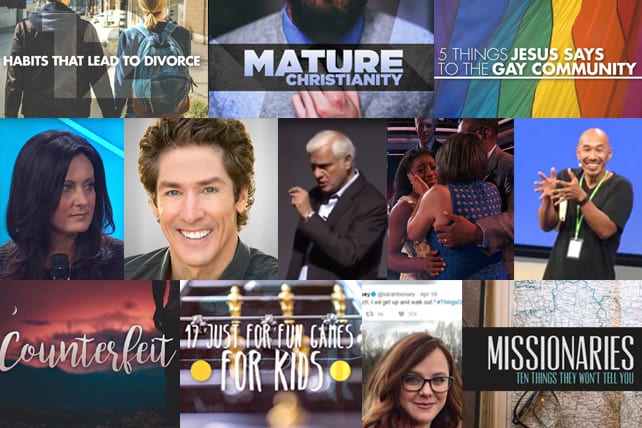 The 12 most viewed articles on churchleaders.com for 2017 can tell you a lot about those leading the church. Whether it's tips on building a great marriage, how to perform a soul-check, celebrating a moment when Jesus was honored in culture, or grieving with a sister in Christ, these headlines point to the church striving to be the church.
# 1 Simone Biles Steals the Show
Simone Biles' Dance to 'Good, Good Father' Is Incredibly Personal and God-Focused
The gymnast who picked up five medals at the Olympic games in Rio entered the world of dance competition on Dancing With the Stars. On April 10, 2017, Biles pulled the competition into the spiritual realm, moving the audience to tears with her deeply personal rendition of a dance set to "Good, Good Father" by Chris Tomlin.
# 2 Everyone Wants to Know How to Divorce-Proof Their Marriage
12 Habits That Lead to Divorce
There are 876,000 divorces every year in America. One way to stem the tide of broken marriages is by identifying traits early on that lead to divorce. Taken individually these habits don't seem like they could end a marriage, but they create a slippery slope that too often leads to the dissolution of a marriage.
#3 The Hashtag Heard Round the World
The Hashtag #ThingsOnlyChristianWomenHear Is Blowing Up Twitter and Pointing Out Misogyny in the Church
Christian author Sarah Bessey started a discussion about the role of women in the church with a social media hashtag that quickly elicited thousands of responses. Bessey believes women's talents have been ignored in the church and looks forward to the day when "they will be celebrated as Deborah instead of silenced as Jezebel."
#4 Joel Osteen Stirs Controversy—Again
What's the Problem With Joel Osteen?
A pastor writes about the criticism he received for promoting a Joel Osteen event. He describes the complaints directed at Osteen and offers his reason for still supporting the controversial evangelist. He asks Christians to stop tearing down ministers whose methods they don't understand.
#5 Sad News From Proverbs 31 Ministries
President of Proverbs 31, Lysa TerKeurst, Ends Her Marriage of 25 Years Due to Infidelity and Substance Abuse
The author whose Bible studies asked women to find contentment in God and fight for their marriages explains why she ended her own marriage. TerKeurst asks for prayer for her and her family in helping her endure the ordeal.
#6 If Missionaries Spoke Freely
Ten Things That Your Missionary Will Not Tell You
A missionary shares some of the most difficult aspects of presenting the Gospel to another culture. The challenges include loneliness, poverty and concern for the future well-being of their children. The article is a reminder of the great sacrifice of being a missionary of the Gospel.
#7 Francis Chan Has Some Surprising Words for Facebook Employees
Francis Chan to Facebook Employees: Why I Asked God to Make Me Rich and Why I Left My Megachurch
The popular pastor talks to Facebook workers about Christianity, the difficulty of remaining humble when you are considered a celebrity preacher and why he would leave a megachurch behind to create small churches.
#8 Ravi Zacharias Talks About Suicide
Ravi Zacharias: Does Suicide Send You to Hell?
As a teenager, the popular apologist and evangelist tried to kill himself in the midst of family and academic struggles. His personal story gives a unique perspective into the spiritual implications of ending your life.
#9 Soul Check
7 Signs You Are a Counterfeit Christian
No one wants to be something other than they claim to be. Unfortunately, many Christians are just that and many don't even know it. Writer Frank Powell asks some hard questions of Christians wondering if they are the real deal or just fakes.
#10 Another Soul Check
What Are the Signs of an Emotionally Mature Christian?
Whether using this list as a self-assessment tool or as qualities for which to strive, author Pete Scazzero offers 11 indicators that your faith and your emotions are working in harmony to make you more Christ-like.
#11 How to: Have a Blast With Children
17 Just for Fun Games for Church or Home
These are suggestions for making the most of a small gathering of children or a night at home with the family. The BALLOON/PLUNGER RELAY GAME and BLOOMER BASKETBALL are just a couple that are fun and exciting.
#12 If Jesus Wrote an Open Letter to the Gay Community
5 Things Jesus Says to the Gay Community
Using scripture as a guide, NewSpring Church presents five messages it believes Jesus would give to homosexuals. Each of the five present Jesus as understanding, forgiving and expecting his children to follow his example.