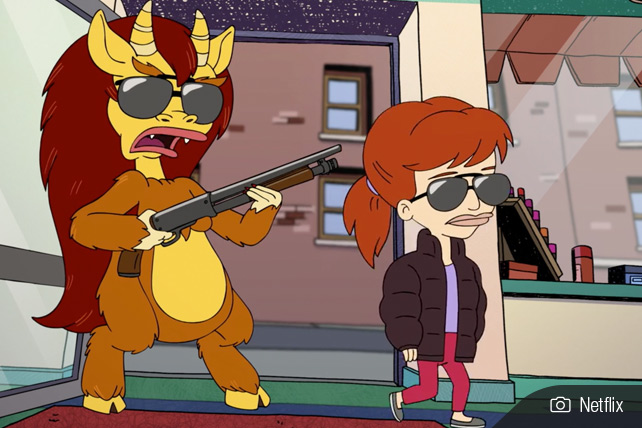 Parents and family organizations are speaking out about Big Mouth, an animated Netflix show about puberty that they say sexualizes children. The series, now in its second season, is rated TV-MA, for mature audiences, yet its cartoon format and juvenile humor seem targeted to preteens and teens.
Using crude humor and foul language, Big Mouth conveys the horrors of puberty (via "hormone monsters") while dealing with a wide range of sex-related topics. The show also features cartoon nudity and jokes about drugs and alcohol. Celebrity voices on the comedy series include Maya Rudolph, Jordan Peele, Kristen Bell and John Mulaney.
Big Mouth's Planned Parenthood Episode Exploits Young People, Critics Say
A recent Big Mouth episode about Planned Parenthood drew fierce criticism from conservative and pro-life groups. Skits covered topics such as contraception choices, sexually transmitted diseases, and a mother getting an abortion.
"This is more evidence that Netflix is becoming an evil media empire intent on corrupting its millions of young viewers with liberal theology," said Jack Fonseca, spokesman for Campaign Life Coalition.
Nick Kroll, co-creator of Big Mouth, says the goal was to address misunderstandings about Planned Parenthood. "People think it's only a place where you get abortions," he says. Kroll realized the episode would generate pushback, noting that "Planned Parenthood is a real trigger for a lot of people."
Monica Cline, a former sex educator who left Planned Parenthood, calls the episode "way off the mark." She writes, "Planned Parenthood and the liberal elite normalize adolescent sexual promiscuity, adult sex with minors, and ending the life of pre-born children. The way to normalize these beliefs in our culture is by weaving it into consumable entertainment like Big Mouth."
In a statement, Planned Parenthood said intimate discussions and decisions "are all a normal part of people's sexual and romantic lives and should also be a normal part of what we see on TV and film."
Hand Masters Game Represents "new low"
To promote the new season of Big Mouth, streaming giant Netflix launched a Facebook mobile game called Hand Masters. Players shake their cell phones, simulating male masturbation, and then receive raunchy feedback about their performance. The game, which generates sexually oriented nicknames for players, also offers sexual advice. "It's time to play with yourself," reads a promotional tweet from @BigMouth.
The Parents Television Council (PTC), which advocates for family-friendly media content, calls Hand Masters a "new low" for Netflix in its "sexualization of children." The game is "crude, debasing and demeaning," says Melissa Henson, PTC program director. "I don't think anybody would say that this is healthy or developmentally appropriate for a teenager or junior-high-school-aged kid or prepubescent-aged kid."
An Unclear Target Audience Adds to the Confusion
A major problem with Big Mouth, Henson says, is that the show's intended audience is unclear. The TV-MA rating indicates "it's for adult audiences only," yet it is animated and addresses puberty in a juvenile manner. Either Netflix is "deliberately marketing very adult content to very young kids" or "intending adult audiences to watch this show where they're sexualizing very young kids in a very disturbing way," she says.
Kroll, the show's co-creator, admits Big Mouth is controversial and that some children likely watch it. But he claims families will be "healthier" when they discuss the content.
Henson encourages parents to be aware of what their kids are watching and to employ parental controls, even though they aren't always kid-proof.