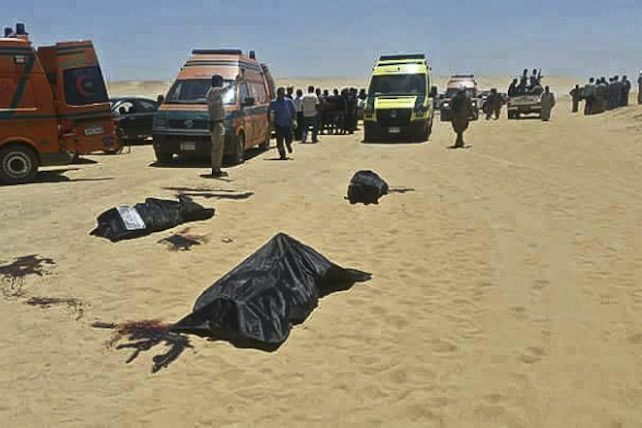 A bus carrying Coptic Christians to a monastery in northern Egypt was attacked by gunmen. At least seven people have been killed and 14 wounded. An eerily similar attack occurred last year that claimed the lives of 29 believers.
A spokesperson for the church in Minya, Egypt, said the death toll was likely to rise. Traveling by bus, the group was headed to St. Samuel the Confessor monastery in Minya when they came under fire. The monastery is located about 160 miles south of Cairo.
Security forces have responded to the attack, launching a search for the perpetrators. No group has claimed responsibility for the attack yet, which occurred in almost the exact same location as the attack last year.
The Coptic Church Is Used to Being Targeted
The Coptic community in Egypt, which accounts for roughly 10 percent of the overall population, is used to being targeted by terrorism. After a bombing at St. Mark's Cathedral in Cairo last year, one church member stated matter-of-factly, "Every church in Egypt just prepares for this. Everyone knows that some time you will get bombed, you will be killed."
After suffering bombings, murders, shootings and constant harassment, not only in Egypt but also as they travel abroad, the Coptic community was nominated for a Nobel Peace Prize this year. Although the community did not receive the prize, the fact that they were acknowledged speaks to the effort they put forth to maintain peace in the face of incredible violence.
It appears Egypt's government is making an effort to bolster its Coptic population. Earlier this year, 166 churches were legalized, making it easier for Christians to build houses of worship in Egypt. While the Copts are a religious minority in Egypt, under the Egyptian constitution, they, along with Muslims and Jews, are guaranteed the right to freedom of religious practice. This doesn't mean that the rest of Egyptian culture is happy about this right, however.
Details are forthcoming about the attack the church in Egypt sustained today.