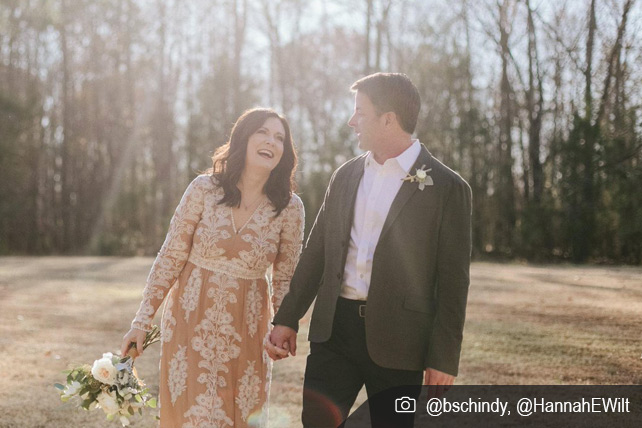 The last few years have been a rollercoaster ride for Lysa Terkeurst. Her new book, It's Not Supposed to Be This Way, is aptly titled as it describes the heart-wrenching journey she experienced as she separated from her husband of 26 years, battled cancer and underwent emergency surgery for a digestive problem, and continued to lead Proverbs 31 Ministries. Now, Terkeurst is sharing some long-anticipated and wholly welcomed news: She just renewed her vows with Art, her husband.
"On an unusually sunny Tuesday in December, we dressed up a bit and whispered healing words, heart felt prayers, and holy vows. A million prayers. A miracle answer. A marriage restored," Terkeurst wrote on her Twitter account.
Lysa Terkeurst's Rocky Road
In a blog post dated June 2017, Terkeurst shared she and Art were experiencing marital troubles. Having learned 18 months prior that Art had been unfaithful to her and was struggling with substance abuse, Terkeurst explained the couple had been engaging in "intensive therapy." She describes attempting repeatedly to forgive her husband and work toward reconciliation. As of June 2017, though, Terkeurst believed Art had "abandoned" their marriage.
At the time, Terkeurst indicated she was "pursu[ing] a divorce" even after repeated attempts to avoid such action. Things seemed to go silent for a while after the publishing of the June 2017 blog post. Terkeurst mentioned she would take a step back from leading Proverbs 31 in order to rest and receive "biblical and professional counseling."
The irony of the fact that she had led and encouraged countless women to fight for their marriages and now she was facing the implosion of her own was not lost on Terkeurst. In an interview with ChurchLeaders, Terkeurst said facing the reality of her broken marriage in public was "excruciating."
"I've always wanted God to be as predictable as a math equation. I felt like I had done what God asked me to do. I'd tended to my marriage; we'd gone on the date nights and the retreats; we'd gotten good counseling. I'd felt like I'd done everything and checked all the boxes and then this upending of our relationship, this unraveling of what I held precious, it was more painful than what I knew how to deal with privately, so you can imagine how excruciating it was to deal with it publicly."
Turning Trial Into Triumph
And then in June 2018, Terkeurst's followers were met with a surprise on her Facebook page. A single picture featuring Terkeurst and her family—including Art—indicated things might be turning around in the marriage. The caption read, "A gift. A hard prayed for and fought for, glorious, messy, miraculous, honest, treasured gift of together. Happy Father's Day Art! The way you have pursued the Lord, healing, and us…is evidence of God's supernatural grace and goodness."
Somewhere along the course of this crazy ride, Terkeurst managed to write It's Not Supposed to Be This Way, in which she gives some details about the intense trials she was currently going through. The epilogue of the book contains a candid letter that is full of hope concerning her marriage (which had begun to be reconciled), yet at the same time remained cognizant of the journey the couple still had to complete.
Terkeurst wrote she is still a little fearful of the future, given the pain the past has contained, yet she has found courage and strength in God.
Her story and her willingness to share it, as painful and potentially shameful as it may be, gives us a beautiful reminder: None of us can anticipate the struggles the future will hold. All we can do is trust the God who leads us and loves us.
Congratulations, Lysa and Art. May God bless you and may you have many more years together.