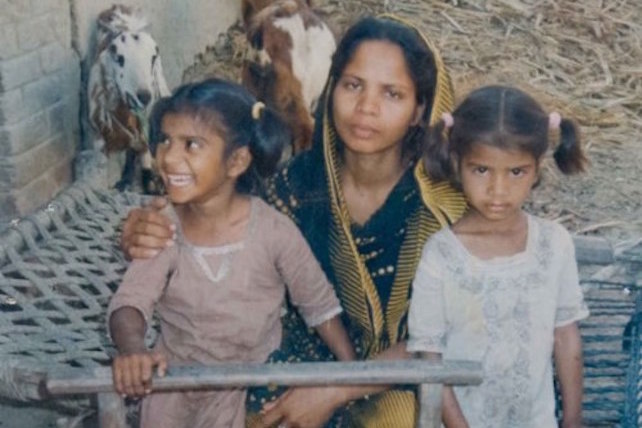 On Tuesday, Pakistan's Supreme Court upheld its October 2018 decision to acquit Christian mother Asia Bibi of blasphemy charges. Bibi will finally be able to join her children in Canada, where they have been given asylum.
"I am really grateful to everybody. Now after nine years it is confirmed that I am free and I will be going to hug my daughters," Bibi told a friend who asked to remain anonymous for fear of the angry mob that is not happy with the judges' decision.
Bibi watched the decision on television from an undisclosed location where she has been hiding since October. Following the court's initial decision to free her, an angry mob, led by the extremist Muslim group Tehreek-e-Labaik Pakistan (TLP), took to the streets in protest.
One of the three judges on the court, Chief Justice Asif Saeed Khan Khosa, indicated Bibi's accusers presented false evidence and were guilty of perjury. In fact, he said if the case hadn't been so sensitive, her accusers should be jailed for life. Some of the leaders involved in the protests following the October decision were jailed on charges of terrorism and have not been released yet.
Extremist Muslims Upset by Asia Bibi News
Authorities in Pakistan anticipated more protests with this final decision from the court and attempted to stay ahead of them. According to AP News, on Monday local police had already arrested hundreds of people associated with the TLP in Pakistan's biggest cities: Islamabad, Lahore and Rawalpindi. Security was particularly tight at the courthouse as well. Police in riot gear surrounded the building and had concertina wire (large, coiled razor wire) ready to block off main roads if need be.
A leader of the TLP, Mohammad Shafiq Amini, sent a video to the group's followers condemning the decision from the judges. Amini called it "cruel and unjust" and that Muslims should feel ashamed Bibi was not executed. Amini urged followers to fill Pakistan's jails by protesting.
On the other hand, Justice Khosa sees the actions of these Muslim protestors as a poor representation of Islam. "The image of Islam we are showing to the world gives me much grief and sorrow," he said.
Others are rejoicing over the decision and what it means for Pakistan, which is often roiled by people using charges of blasphemy to attack personal enemies and religious minorities. "I am happy because the judges spoke out strongly against giving false evidence," Joseph Francis, a Christian activist, said.
Bibi's lawyer, Saiful Malook, was critical of the Pakistani government after it allowed the Supreme Court's original decision to be appealed. At the time, he said the government couldn't even implement an order of its highest court. After Tuesday's decision, however, Malook deemed it a victory for Pakistan's constitution and rule of law and he is hopeful the decision will deter future false blasphemy charges.
The next stop for Bibi, after years behind bars and a very tenuous several months in hiding, is Canada where she will be able to hug her children again.