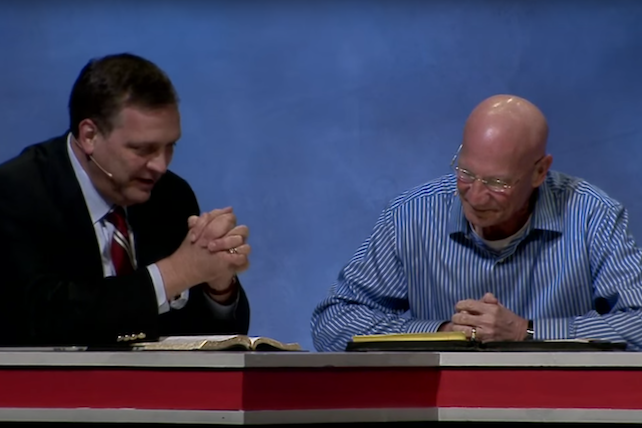 Following the Houston Chronicle's in-depth investigation into sexual abuse within the Southern Baptist Convention (SBC), seminary president Al Mohler has apologized for previously embracing C.J. Mahaney, a ministry leader embroiled in a lengthy scandal.
Mohler, president of Southern Baptist Theological Seminary in Louisville, Kentucky, had called Mahaney, founder of the non-Southern Baptist group Sovereign Grace Churches (formerly Sovereign Grace Ministries), a "friend" with "personal integrity." Mahaney, who resigned as president of Sovereign Grace Churches (SGC) in 2013 to pastor a Louisville congregation, was sued earlier that year by 11 plaintiffs. They claimed SGC leaders kept quiet about their allegations of child physical and sexual abuse, at least one case of which was committed by a person in leadership in the church.
Mahaney repeatedly denied the accusations, and the case was dismissed in 2014 because the statute of limitations expired.
A Mea Culpa From Mohler 
On Thursday, Mohler told the Houston Chronicle (HC): "I believe in retrospect I erred in being part of a statement supportive of (Mahaney) and rather dismissive of the charges. And I regret that action, which I think was taken without due regard to the claims made by the victims and survivors at the time, and frankly without an adequate knowledge on my part, for which I'm responsible."
In recent years, Mohler and other SBC leaders had welcomed Mahaney as a conference speaker, though controversy forced Mahaney to withdraw from the T4G conference last spring. This week Mohler said he regretted a joke he made as he introduced Mahaney at a 2016 event, which was besieged by protests. "What I did was wrong," Mohler told the HC, "and caused hurt to the victims and survivors who felt that their experience had been trivialized and dismissed. And I grieve that, I apologize for that, it was wrong. I would never make such a comment again."
When asked if he should have denounced Mahaney, who'd made financial contributions to Mohler's seminary, Mohler replied, "Yes. Yes. Yes. Yes. I should have been very clear about insisting on an independent, credible third-party investigation. I should have said nothing until I had heard from those who were victims and who were making the allegations. I should have sought at that time the advice and counsel of agencies and authorities who were even then on the front lines of dealing with these kinds of allegations."
Also on Thursday, Danny Akin, president of Southeastern Baptist Theological Seminary in Wake Forest, North Carolina, admitted he shouldn't have supported Mahaney without knowing more about the allegations. Mahaney and SGC "could have been far more transparent…(and) far more forthcoming" about the allegations, Akin added, and "could have saved a lot of people a lot of grief."
Responses to Mohler's Apology
After Mohler apologized, victim advocate Rachael Denhollander tweeted: "I am deeply grateful for this step. Recognizing error and grieving over it is something we all must do. I hope other SBC leaders follow this example. Integrity and the safety of the members depends on it."
Denhollander, a former gymnast who made the initial allegations against convicted sex offender Dr. Larry Nassar, has advocated for an independent investigation of SGC for years. In early 2018, she urged SGC to let the Christian organization GRACE check into claims of misconduct against its ministry leaders. SGC refused, saying the inquiry wouldn't be neutral.
Denhollander, now a lawyer, spoke about her faith during Nassar's sentencing and mentioned that her advocacy "cost me my church." Although her Louisville congregation wasn't part of SGC, church leaders wanted to restore Mahaney's leadership. When Denhollander protested, she says elders told her and her husband (a Southern Baptist seminary graduate) that this particular church "wasn't the place for us."