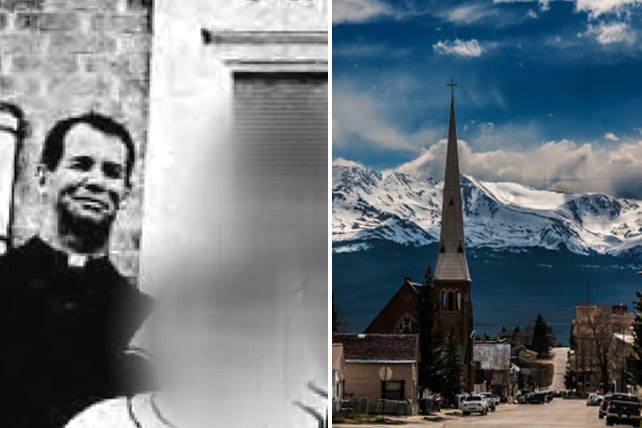 The State of Colorado is following the lead of several other states that have opened investigations into the Catholic Church concerning allegations of sexual abuse committed at the hands of priests going back as far as 1950. Now, a news station in Denver is reporting that the announcement comes too late for one victim of such abuse. Stuart Saucke died by suicide in 1991. He left behind a letter to the priest that allegedly abused him, linking a debilitating and eventually fatal struggle with alcohol to the abuse he endured as a teenager.
"It's been 24 years since you sexually molested me. I also have been an alcoholic for 24 years," the letter addressed to former Priest Neil Hewitt reads.
Donna Ballentine found the letter in a box of her late mother's papers. Although the letter was not dated or signed, she recognized the handwriting as that of her late cousin, Saucke. According to the letter, Saucke had been manipulated by Hewitt through the use of alcohol.
Ballentine recalls Saucke had an extended battle with alcoholism. "I just wish that he could have come and spoke to somebody, but I know that the shame and hurt that he felt—he felt that he just could not at that time," Ballentine told 9Wants to Know. "And he probably was just trying to numb it through alcohol and whatever."
Who Is Neil Hewitt?
Hewitt was ordained as a Catholic priest in 1962 and served under the Archdiocese of Denver until 1980. Hewitt had grown up in northeast Colorado and Nebraska. He graduated from high school in Fort Collins in 1954. Hewitt served at a handful of different churches in Colorado including assignments in Grand Lake, Sterling, Leadville, Denver and Rangely.
It was in Leadville that Saucke met Hewitt. In his letter, Saucke described Hewitt as "fun to be around." Saucke isn't the only one that initially thought of Hewitt as fun. Michael Smilanic, who attended the church Hewitt served in Denver in the 1960s, told 9Wants to Know, "He seemed more human, I think, than some of the other priests." Smilanic reported the abuse he suffered at Hewitt's hands to the Archdiocese in Denver in 2017, five decades after the abuse occurred. Watching the movie Spotlight, which chronicles the Boston Globe investigation into clergy abuse in Boston, spurred Smilanic to tell his story.
Both Saucke and Smilanic recall going on trips with Hewitt, which is when the abuse happened. Hewitt took teenage boys on trips, sometimes chartering a private plane to fly the boys to Canada. The trips also involved alcohol.
In 1980, Hewitt left the priesthood to get married.
Confronting Hewitt
9Wants to Know found Hewitt, who now lives in Arizona with his wife. A reporter spoke to Hewitt for over half an hour on his front porch, although Hewitt declined to sit down for a formal interview. Now 83, Hewitt admits he had done things that were "wrong" during his priesthood. However, at the time, Hewitt says he "didn't think of it as being…very wrong."
"It's worried me all my, all my life," Hewitt told the reporter. "I don't think I really realized all the, all the, uh, morality of what I was doing, truthfully, from my, from my youth." When asked if he had an estimate of how many boys he treated "wrongfully," Hewitt said "around eight, maybe nine."
Smilanic says he called Hewitt and that the former priest readily acknowledged what he had done to him.
Hewitt says the only thing he can do is "say I'm really sorry."
What Is Colorado Doing?
Colorado Attorney General Phil Weiser announced in February that the state would be looking into abuse and the Catholic Church with the help of former Colorado U.S. Attorney Robert Troyer. The announcement came after Pennsylvania released the findings of a massive report identifying 300 priests who had been accused of molestation going back as far as 1940 in that state. Weiser said the revelation that church leaders in that state were involved in such an insidious cover-up was stunning.